Russell and Clayton Peters: Brothers and Best Friends!
All of the relationships we have in our lives are so important. From romantic relationships to friendships and even to sibling bonds, the people we surround ourselves with can influence who we become and how well we do. On the Dating and Relationships show, I sat down with Clayton Peters, the Manager, Executive Producer and brother of Comedian Russell Peters to discuss their lives together from siblings to super stardom! 
Known for most of their lives as just two Brampton brothers, Clayton Peters was able to tell us that before Russell Peters was known by name, he was more popularly known as 'Clayton Peters' little brother'. They grew up in the GTA with a sibling relationship like any other. But because Russell had a loud personality matched with a scrawny body, Clayton often remembers sticking up for Russell like any older brother would do. With a close and supportive relationship, they entered the comedy scene together originally when Russell expressed an interest in performing. He said he wanted to try stand up, so Clayton brought him out to Yuk Yuks comedy club in 1989 and around Toronto to various improv shows. Russell stuck with it and Clayton went about his own life and work in the corporate world. It wasn't until nearly 15 years later that Russell started to earn a name for himself in the industry and Clayton came on as his Manager in 2004.
Since the Peters brothers have always had such a close relationship, I asked Clayton 'how do you manage him and be who he needs from here in Oakville, while he is in LA?' Clayton said that at first he needed to be around a lot to keep everything in order, learn the industry and be constantly present at meetings, events and on tours. But now, Russell has figured out how to manage the fame and show biz aspects independently, and Clayton will fly back and forth for meetings. He says that over the years the distance has made their relationship better, but they still don't go one day without talking to each other about anything and everything! So their relationship is still so close and constant, even though they are separated by great distance.
Competition Ruins the Sibling Bond
I also asked Clayton how they keep their sibling relationship a healthy one, since maybe not everyone would be all right with taking the passenger seat to their little brother's fame and success. Clayton said that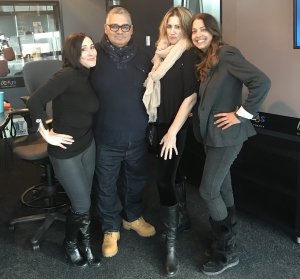 him and Russell simply don't feel the need to compete with each other. He said that's what keeps their relationship balanced so it is both successful and happy! Clayton considers himself a shyer guy, so he doesn't love or need the spotlight as much as Russell does. He let us know that many people that have known both Clayton and Russell for a long time think Clayton is very funny too! But their sibling relationship stays successful since they have a dynamic that not only works for them, but also allows Clayton to be a great Manager, Producer and brother all in one.
With Russell's widespread success, I asked Clayton about what it has been like with Russell's transition from comedy to film in his new series Indian Detective. He said that it is very different and challenging at times! As a comedian, it is just a mic and a voice and some independent behind the scenes work with content creation. But in the TV and film industry, Clayton and Russell now have to deal with 20-30 other people behind the scenes like Directors, Writers, Set staff, Production Assistants and many more. Clayton is constantly learning how to liaise and be involved with what's going on since this phase of Russell's career is new for the both of them. The film industry is tricky business especially now-a-days with all of the negative stories emerging in the media. I wanted to know Clayton's opinion on the #MeToo movement and the other effort's going on regarding all of the sexual allegations. To this Clayton responded that the way he sees it #MeToo is about one, men and women, two, about the power dynamic that is now being brought to our attention and three, about the abuse of power that we can no longer ignore. He is wondering why it has taken so long for all of these things to be brought to light, and as the husband of a strong, independent woman, he sees the movements as a positive rally for change. For so long women in the entertainment industry have been under the pressures of power and fear because of the men that are being exposed. Women have been hindered in climbing the career ladder on their own terms because movie executives, directors, co-stars etc had said 'fine, if you don't want to do x, y, z for this roll, I can open the door and there will be many other women willing to do what I want for a big break.' But the ones that did do it for the part are viewed in fault of succumbing to these men and scrutinized that they 'should have known better'. But since this power dynamic has always existed and the abuse of power has continually been used against women, there has not been much they could do about, until now. Now is a time Clayton and Russell are in support of for all of the women hoping to make a change for the better.
It was great having Clayton Peters in studio to discuss how a sibling relationship can stay healthy in the midst of stardom! The Brampton boys' perspectives on Hollywood and fame prove to be truly Canadian with the belief for genuine equality even while in the center of this hectic industry. To listen to the whole Clayton Peters show and learn more about fans and life on the road with Russell Peters check out the Dating and Relationship Show.