In today's day and age, dating is something entirely different than it was a couple years ago, and I wanted to sit down with some of the people in the game today on the Dating and Relationships show. I chatted with the female cast of Second City's Hooking Up: Second Base sketch comedy show and Dean Young to discuss love and all the dating apps that surround our relationships today!
A Generation of Dating Apps
I was joined by 3 lovely ladies from Second City: Jillian Welsh, Clare McConnell and Natalie Metcalfe for some girl talk about their love lives and dating apps. As we know, gender and sexuality are spectrums and Jillian, Clare and Dean are all bisexual. I wanted to ask them about how their dating lives work being attracted to men and women. All 3 of them responded that they find their tastes varying month to month between men and women. Sometimes they go on a streak of being attracted to one over the other, but because they are open to both, they explain that it's more so about being attracted to the person when you date both genders, rather than being attracted specifically to their sex. Clare, Jillian and Dean shared with us that it is something you feel your whole life and once you finally have the courage to embrace 'coming out' it is liberating and exciting, and you basically double your dating pool in a city like Toronto!
Well of course with these young daters living in Toronto and navigating the dating world today, I wanted to ask them all about the popular dating apps! Which ones were they on? How did they set up their profiles? And what has their success been like? Bumble, Tinder and Grindr (for Dean) were the most popularly used ones. Jillian made a comment that she feels she is 'winning' at Tinder. How does someone 'win' on Tinder I wonder? She's been able to meet a bunch of great people through Tinder and even if they don't turn into romantic relationships, she's happy that she's been able to expand her social circle through an app. I asked the girls what they write in their bios. Since they are comedians at Second City, they all have a funny line that's different from the norm. But they said that being different from everyone else and true to yourself in a bio is such a better way to break the ice with someone, and I agree! So did these girls and Dean use Tinder for hook ups? The majority said no they hadn't used Tinder solely to 'hook up', and in fact Clare admitted that she only had her first one night stand a couple of months ago, well into her twenties!
Hooking-Up IRL
Despite the rise of dating apps approaching people IRL is something that still has to happen. They feel that women are approached less now a days and approach men more! Is this because of the #MeToo movement? The girls and Dean thought that yes, what is going on in the media has a huge role in women's lives right now, and overall gender roles seem to be changing. So is chivalry dead? Nope! Equality is the new chivalry! They seemed to unanimously agree that they would like to split the bill on a first date, or if the guy pays on the first date and they see the relationship going somewhere, they would offer to pick up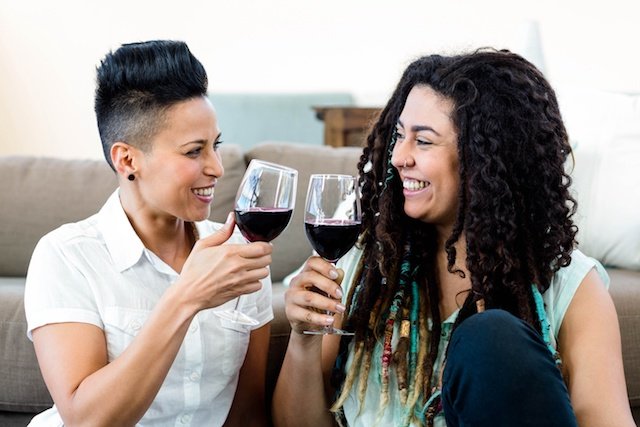 the bill on the next date. I couldn't really get on board with this because I am used to the old fashioned dating trends, but it seems to work for them and they really enjoy this dynamic, which is great! Though the girls admitted that they don't use Tinder for hook ups, they all seemed to agree that sex has become more casual over the years. I wanted to know if they had ever been in a 'friends with benefits' relationship because of this casualness about sex? Well Dean told us that, yes, he's had a 'friends with benefits' relationship in the past, and she in fact was the first person he came out to as a bisexual! The rest of the girls said that they wish they could have a relationship like this, but honestly it's never worked out for them and has turned out to be messy more often than not.
Because of their sketch comedy show at Second City Hooking Up: Second Base I wanted to ask them about the different bases. We had quite the laugh as they tried to recite their memory of all of them. First base is kissing – with or without tongue. Second is touching and grinding above the clothes. Third is touching underneath or without clothes. And of course, home base is going all the way!
I had a great time chatting with these beautiful and hilarious ladies about their dating lives and the apps that run our relationships today! Jillian Welsh, Natalie Metcalfe and Clare McConnell are expected to have more appearances with Second City, so go out to see a show to support them and have a great laugh and to listen to the full show here. Tired of the dating app life? Meet some IRL at Single in the City's Singles Events.