Date/Time
Date(s) - 15/05/2018
6:45 pm - 10:15 pm
Location
The Depanneur
Categories
Age 25+
This event is over, but if you're looking for more events you can visit our Singles Event Page!
Are you single and love Italian food? Do you want to be able to impress dates with an amazing new cooking skill? Well then this is the event for you! This event is for singles looking for a good time and new adventure. Join Single in the City for a night of Italian cooking with Laura Bilotta at the charming Depanneur Kitchen. Laura is going to be sharing historic Bilotta Family recipes and techniques, this journey into Italian cuisine is not an experience to be missed!
Laura will give a demonstration on how to make Italian vinaigrette, Chicken and Eggplant Parmigiana, tomato sauce and Sicilian cannoli and everyone will have the opportunity to participate in an interactive lesson preparing the chicken and cannoli. After, everyone will be able to enjoy the delicious Italian food they prepared together.
Our cooking classes are some of our most popular events and they sell out!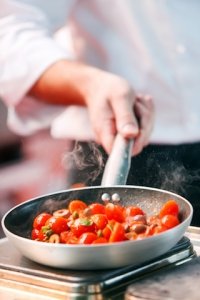 Get your ticket before they're gone!

THE EVENING INCLUDES:
Mixer Icebreaker from 6:45pm-7:15pm
Italian cooking demonstration
 Interactive lesson
3 course Italian dinner: Salad with Italian Vinaigrette, Chicken Parmigiana, Penne with Tomato Sauce, and Sicilian Cannoli
2 complimentary 5oz glasses of wine or water or soft drinks
Eggplant option for vegetarians (please email us to let us know you need this accommodation)
Singles Italian Cooking Class is special – its a saucy mingler with scrumptious food and amazing singles.
IMPORTANT ITEMS TO NOTE:
* There are no refunds on purchased tickets
* We don't guarantee an equal number of men and women
* This venue is not a nut/ allergen free environment
* If you have dietary restrictions please email us before buying tickets
*Each individual signing up for this activity is solely responsible for their own safety before, during and after the activity takes place. Single in the City is not liable for any stolen or lost items during this activity, including any items left behind afterwards.  Single in the City employees, tour guides or drivers reserve the right to remove any person displaying inappropriate or disruptive behavior and/or anyone causing a threat to the safety of other individuals. Each individual is solely responsible for the use of the equipment during this activity and responsible for the repair and replacement of any broken, lost or stolen items during or after an activity. Once registered for this activity, Single in the City and their employees will be relieved from any liability and responsibility for any claims for loss, damage, injuries, criminal or civil litigation for the individual resulting from this activity.
* Each Participant is responsible for their own alcohol consumption and agrees to drink responsibly and not drink and operate a motor vehicle.
* In order to receive your receipts/confirmations from us, please be sure to add us to your Safe or Allow list by accepting all emails that end in @singleinthecity.ca otherwise you may not receive our emails due to high potency spam blockers by your service provider.
Bookings are closed for this event.