Long Distance Relationship Discussion on AM640 with Joan Kelley Walker from the Real Housewives of Toronto and Hanya Kizemchek from Hanya's Hope Charity
A couple of weeks ago on The Dating and Relationship Show, I brought in Joan Kelley Walker from the Real Housewives of Toronto as my substitute co-host for Sandra and philanthropist, Hanya Kizemchek founder of Hanya's Hope Charity as my special guest. Through the show we came together and got to have a really nice chat on long distance relationships and dating someone who travels often.
 Although both women had their own personal experiences dealing with the long distance relationships they were engaged in, I myself could absolutely relate. A few years ago, I was in a long distance relationship myself and although mine didn't work out, it was interesting to hear how Joan and Hanya made it work for them!
 Often times before getting into a long distance relationship, it is important to asses how you and your partner are going to make the relationship work, whether it's even possible to make it work, and whether the relationship is worth the work. Hanya explained getting into her long distance relationship in the beginning was way more difficult than she thought it would be and although it's been a process, it's been incredible.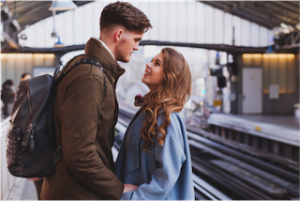 On the other hand, although not necessarily considered a long distance relationship, many couples like Joan and her husband have one partner who travels very often for work. Sure, the relationship is built on a foundation where both individuals have gotten more than enough time to get to know one another and for majority of the relationship they are physically together regardless. Nevertheless, as it continues and one partner must leave for extensive time periods, this can become a stressor as the couple tries to accommodate. In Joan's case particularly, she mentions having to move her family to Paris for a few months because otherwise they would not have gotten to see her husband. In the case of having a partner who travels often, I believe making arrangements can be just as tedious as any other long distance relationship because if travelling often is apart of your partner's lifestyle, this means you will always have to deal with and learn to accept that.
So can long distance relationships actually work?
As the conversation moved forward we got to talking about being in a long distance relationship for the long haul and how important it was for both individuals to be on the same page in how they'd want their future together to look. In fact, did you guys know 70% of long distance relationships fail when changes aren't planned for? When bringing this statistic into the discussion, Joan and Hanya couldn't agree more. Hanya found making all the accommodations between her and her boyfriend only worked because they both communicated it'd be temporary and eventually they'd settle down together. Whereas on my end, the statistic couldn't be more true because it was the realization that my partner and I were never going to live together which inevitably brought me to ends things.
This brings me to my point; as long as you've built a strong foundation of trust, understanding, and communication in your relationship, your long distance relationship is just as "legitimate" as any other relationship. Whether you're 2 or 200 km away from one another, the key is to plan out what works best for the both of you so that everyone's happy and get's the most out of the relationship. Being in love is more than simply being physically present, but emotionally present as well and if not, more.
To listen to the full discussion with Joan Kelly Walker from the Real Housewives of Toronto and Hanya Kizemchek founder of Hanya's Hope Charity, check out the online stream on AM640.
Or catch the latest episode of The Dating and Relationship Show on Talk Radio AM640 on Sundays at 9pm!
Ciao for now!