On Sunday the 29th January 2017, Single in the City hosted a unique Singles fitness event on yoga mats spread out on hardwood floors in a downtown dance studio.  With the music pumping in the background, an intimate group of people exercised their bodies under the direction of Damian Wyard, Toronto Pilates instructor and physiotherapist at Pilates4Physio.
We could see huge snowflakes falling outside through the bay windows as we worked up a sweat in that cozy studio. Our group spent sixty minutes lunging and stretching and balancing our arms and legs in exercises designed to work our core muscles.  We did activities to flatten our stomachs and strengthen our backs and many of the moves we did also shaped and toned our buttocks. Generally speaking, each of those results holds great appeal to Singles, and could be why Pilates is so popular all across North America.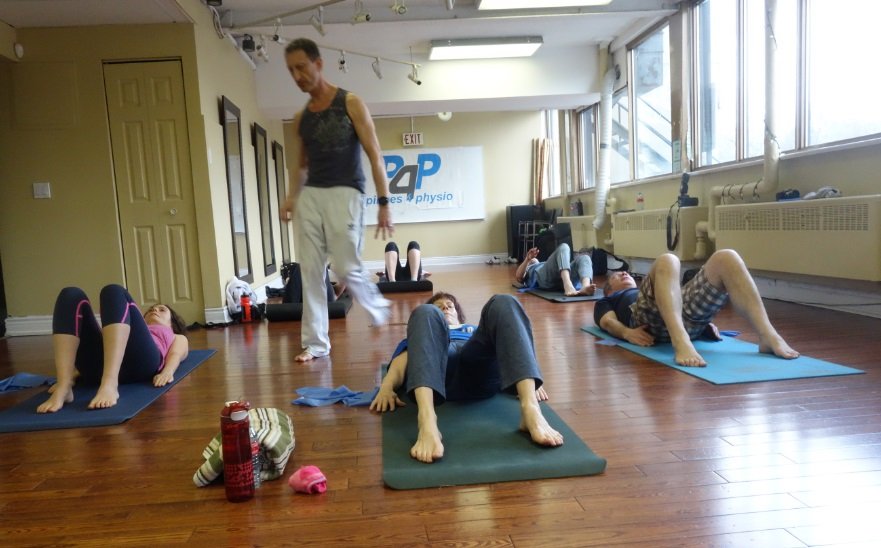 Damian Wyard is the founder of Pilates4Physio in Downtown Toronto which combines the use of Pilates and manual therapy for rehabilitation.  Part of the appeal of Sunday's exercise event was the addition of interesting music. Damian chose The Sound of Glitterbox, Purple Disco Machine and the groovy beats inspired rhythmic stretches as we worked our arms and legs and backs and stomachs.
As well as being a registered physiotherapist, Damian Wyard has a background in sports massage, which includes spending three years touring with Riverdance company as a massage therapist for the dancers. That chapter in his life gave him the hands-on experience and skills necessary to treat many sports related injuries.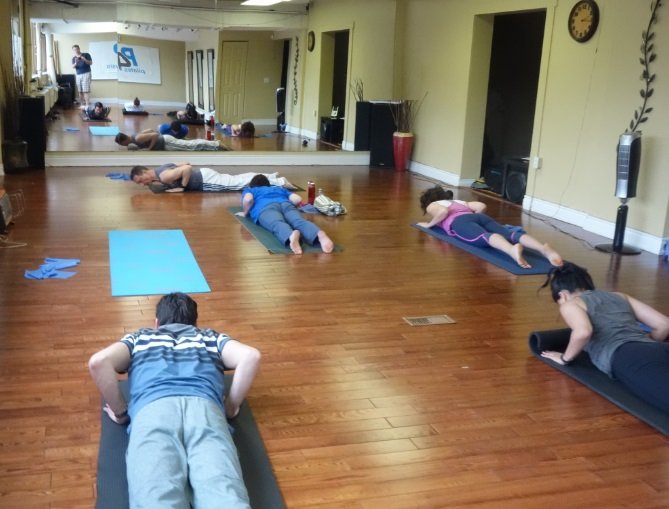 Today Damian works with a variety of patients with acute or chronic spinal and peripheral joint injuries. The exercise routine he conceived and led on Sunday was the product of many hours of thinking and refining his ideas about the perfect Pilates program to strengthen spines and prevent injuries and back pain in otherwise healthy people.  And it was a good time to boot.
Using the tensor bands, we were able to challenge and strengthen different muscle groups including the muscles in our backs and buttocks.  In addition to holding the bands in our hands and opening and closing our outstretched arms to work the muscles in our shoulders and backs, we also strapped the tensor bands around our feet to work our lower backs, stomachs and butts.
Singles Fitness Themed Social Networking Happened
As seen below, the crew is busy using the tensors to work their abdominal muscles (by holding the bands in their hands and feet and doing mini sit-ups to exercise their stomach muscles).
In the bright and sunny studio at the back of the Afro Latino dance studio Damian put the group through several configurations, alternating normal stretching and relax periods with extra stimulating exercises using the tensor bands.
The workout was a great all-around back and glutes strengthening exercise class.  We all came away feeling like we stretched every muscle in our bodies.  Imagine how shapely and strong we'd be if we did this every weekend? Thank you Damian Wyard.
Save
Save
Save
Save
Save
Save
Save
Save
Save
Save
Save
Save
Save
Save
Save
Save
Save
Save