Singles Pizza Making Night at Amico's Pizza in Toronto was a historic event that happened at 7pm on Tuesday Nov 1st at 2016 when our CEO and founder Laura Bilotta hosted a new type of networking event that's sure to become a funding model for future SITC attractions.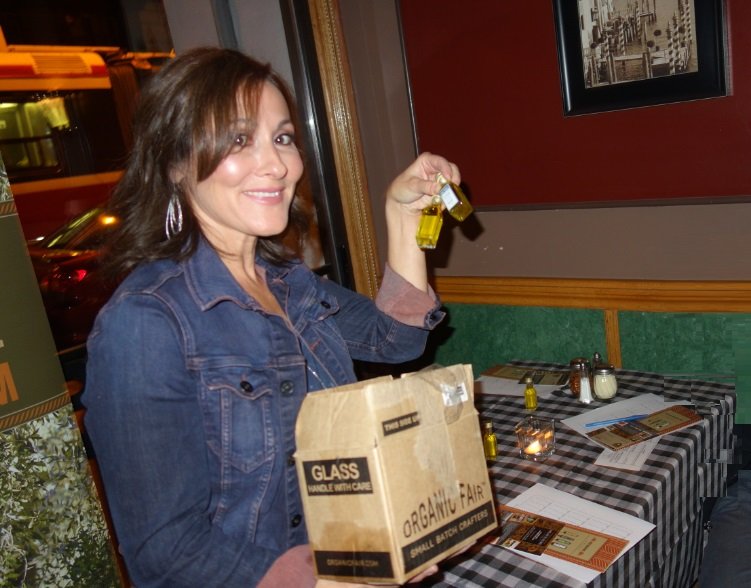 Single in the City is pioneering a new Sponsored Experience Singles Networking event model which fuses together singles mixers with food marketing attractions to subsidize the cost of creating culturally sophisticated adult lifestyle experiences worth sharing on social media.
The event model is simple. Laura brings a crowd to a commercial venue like a downtown Toronto restaurant, or sports bar, or a bowling alley, or a golf course. The venue then makes space available to a 3rd party sponsor to conduct a unique activity. It could be art exhibition, a fashion show or D.I.Y. food prep, or exercise tips or dance instruction. It doesn't have to be cuisine related programming all the time. The idea is that by getting out and doing something different, Laura can host an innovative singles event where people can more comfortably mingle and meet and get to know each other.
And it works brilliantly because it becomes a triple win; the restaurant gets blog and social media content plus incoming links and all SitC buzz from Laura's promotions (Single in the City is a well-known brand, and something of a web marketing powerhouse with a huge social media following and active community), and the niche sponsor gets a ready made audience and speaking platform, and Laura profits too as the experiences are so satisfying to her community seeking out-of-the-box attractions.
Singles Pizza Making Night at Amico's Pizza in Toronto
Last night it was pizzas. Twenty-four single people descended on Amico's Pizza in Toronto at approximately seven pm and were greeted by Laura the moment they stepped in the door. They were given a rather standard meet & greet card which compelled them to walk about and converse with other attendees and then use pens to enter names of guests in boxes that meet certain memorable criteria. For example ie one box read 'who has a dog at home?' And another said, 'who has a brother named Peter or Paul?' These types of questions are benign 'ice breakers' and indeed Laura calls these her icebreaker cards.
When Laura was confident that everyone who'd registered was present, and after an early bird guest named Ritchie successfully completed his ice breaker card (and was given a free drink as prize), Laura asked the assembly to break into groups of four. This size squad is the maximum amount of guests allowed in the kitchen prep area of this legendary, albeit rather confined pizza ristorante, at one time.
Sarafino Foods offered participants an authentic olive oil tasting experience
As the first teams went to the kitchen to cook their individual pizzas together, the evening's niche sponsor stepped forward and directed the remaining patrons seated at the blue and white checkered tables to look toward four different coloured shot glasses arrayed before them. Angelo Tramonti from Sarafino Foods, an olive oil importer to Canada then conducted a fascinating dissertation on how to identify real, unadulterated olive oil (that has not been diluted with oils from other plants).
Angelo offered participants four different oils to try, but not before first telling them that they have probably never tried real olive oil before, never ever, in their whole lives. He used that shocking comment to segue into a conversation on the fraud that's happening in supermarkets today regarding the way the Canadian government lets olive oil packers use misleading labels so everyday consumers don't realize they're buying products that contain very little actual olive oil.
Meanwhile, back in the kitchen, each participant was given an apron and two minutes at the counter to add tomato paste and seasonings to their personal sized pizza-dough patties.  After that they could garish the uncooked pizza anyway they liked – using whatever toppings they liked. Their choices included a variety of exotic ingredients like capers, pickled onions, asparagus, basil and other specially imported meats and cheeses in addition to the arsenal of regular toppings present at the counter. Each artist also had to sign the pizza with some distinctive feature so they could identify their work when it was cooked.
Each group of four pizza-makers each took about ten minutes to complete their cuisine creations and there were six groups in total. Laura went last and made a wicked pizza with everything she liked most – extra cheese, tomatoes, and spicy pepperoni and by the time she was done, Angelo was wrapping up the olive oil tasting in the main dining area outside.  Frank began loading up the ovens and soon the smell of two dozen pizzas cooking was literally driving everyone crazy.
By this point, Angelo had finished the tasting. The assembled guests had now tasted and compared the essence of four different Sarafino olive oils.  This chronicler won't soon forget sampling the Ottobratica which imparted notes of artichoke, sour apple and bitter banana.  It was smooth and clean with a spicy finish.  Now the people at the event were hungry for their own hand-made pizzas. Everyone had long since digested the baguette bread slices that accompanied the olive oil tasting.
Frank had been 'half-baking' the pizzas, and now finished them off quickly in a group to send them out en mass. He worked with his helper to deposit the pizzas in the window counter opening between the kitchen and the bar.  Penny, the camera-shy bartender ferried the hot pies out the rest of the way to the counter where participants queued up to claim their masterpieces.
So what about the singles pizza making contest and prizes?
Like so many nifty ideas conceived in optimal circumstances beforehand, this notion, the idea of everyone should sacrifice half their pizzas to be cut into twenty-four bites so the group can collectively test and appraise each creation, failed in the heat of the event. It was abandon due to the epic amount of work that facilitating such gamification would require, and the value of the experience didn't seem worth all the cutting and labeling and preparation involved.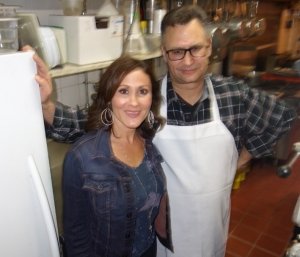 But remember Laura had promised prizes. Because Miss Bilotta always delivers on her promises, she decided to hold a raffle instead, and so gave everyone a sequentially numbered raffle ticket. Pulling tickets from a hat she held three draws for such prizes as free 750ml olive oil, two free speed-dating event passes, and other plush bags that went unidentified by this chronicler.
The evening came to its delicious conclusion with everyone mingling, sharing and eating their pizzas. Angelo gave everyone four small olive oil tester bottles to take home with them. These valuable mementos, along with a take-out box of left over pizza slices will continue to remind the attendees of the quality of Single in the City branded 'unique experience' networking attractions. Some folks also got a phone number.
Save
Save
Save
Save
Save
Save
Save
Save
Save
Save
Save
Save
Save
Save
Save
Save
Save
Save
Save
Save
Save
Save
Save
Save
Save
Save
Save