Dating in Your Thirties
I know what you're thinking from the title. Thirty does not sound old. You've probably been eyeing this blog rather skeptically, wondering if you should even click on it. What problems could thirty year olds possibly face right? You've just exited your 20s, also known as the 'prime dating years' and should now be ready to settle down. Haven't you already established a life for yourself? Aren't most thirty years olds already married with children? Well, for your information, it is exactly these assumptions that make dating in your thirties quite a difficult process.
I was very excited to have Actor and Screenwriter, Jessica Greco and Actor and producer Jessica Hinkson join me in the studio. They have recently debuted a film entitled 'Jessica Jessica' which was named after and inspired by their personal lives. Comedian Peter Anthony was my cohost for the day, which made for a hilarious interview. We learned a lot about the pressures and expectations that come with being in your thirties, and how it can affect your dating life.
Marriage is Not An Achievement
Now before you get upset and proceed to block me on all social media outlets, I'm not suggesting that marriage isn't something to be celebrated. In fact, I want your marriage to be held in high regard and for you to be proud of your union. However, many people get married for the wrong reasons. One of those reasons is because they want to be able to say they did it. It sounds quite juvenile, I know, but even in my own personal life people have recommended that I 'give marriage a try'. I'm not even sure what that means. So after I try out marriage, do I give it back?
Searching for someone to marry does not necessarily land you the right person. You should be looking for someone who's like-minded; compatible to you and who you can have great conversation with. Don't rush into a marriage because you are afraid of being viewed as a failure. After all, you want your marriage to last long and be with someone you genuinely love and connect with.
Age Is Nothing But A Number When it Comes to Dating in Your Thirties
Some people feel that dating in your thirties means that the clock is ticking and you need to find someone fast. They set up rules for their dating life in order to weed out the jokers from the serious contenders. For women, it is easy to discard the idea of dating someone younger out of fear that they may not be mature enough to handle an adult relationship. Peter Anthony commented on this notion, cautioning women not to confuse immature with fun. Jessica Greco agreed with this, also adding that, 'There's this stream of consciousness with younger guys – they're transparent, honest and upfront –which you don't find a lot with older guys'. Greco also commented on the idea of men setting an age limit or range in regards to the women that they'll date, calling this 'arbitrary'. I agree with her. Creating these rules and fantasies in your head of the person who you consider ideal is only going to make you miss out on some really great people.
Dating in Your Thirties = Better Sex
People have been rumored to say that your sex life is at its best when you're dating in your thirties. Jessica Hinkson said she hopes to have amazing sex throughout her whole life, which I'm sure is something we can all agree on. However, it does seem like individuals in their thirties are a lot more adventurous and active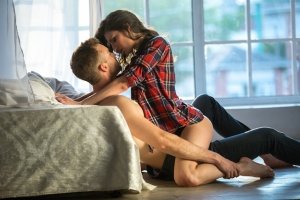 on the dating scene. We discussed whether or not it was normal to have sex on the first date. Jessica Greco says 'YES! As long as it happens organically.' My cohost Peter Anthony seemed to be thrilled with this answer, especially since he had just dabbled in some rooftop escapades of his own the previous night. My humble opinion is that the guy should have to wait, and he should work for it. But that's just me. However, I do appreciate that both Jessica's are very liberal and open-minded when it comes to dating and having fun. I think that the reason why thirty year olds are deemed to be the best in bed is because they aren't afraid to try new things. They have enough confidence to be secure in themselves and yet they are not too stuck in their ways to be considered boring and predictable. They are the perfect medium, just like their age.
So what is the biggest piece of advice for dating in your thirties? 'Be You. Do You. For You.' says Jessica Hinkson. It's okay to be clear on what you want because dating is hard for everyone. Give yourself positive reinforcements and encouragement. You got this! Put yourself out there and be patient with the process. It's not a race to the finish line; you'll cross that line at your own pace and on your own terms.
If you're dating in your thirties and need help meeting new people, check out my Summer Nights Toronto Singles Dance Party that's happening this July 21st, for singles in their 30's, 40's and 50's. Take a look at our Events page to view other upcoming events. 
To listen to this episode and past episodes check out The Dating and Relationship Show.
Ciao for now,
Laura