I had such a blast hosting Single in the City's first Flirt With Food Italian Cooking Class a few weeks ago and I want to tell you all about it! Our evening started with guests arriving to the Deppaneur and playing a fun round of my favourite ice breaker- Flirt Bingo. Flirt Bingo is great because it gets everyone mingling and the slow pokes get to join in as they arrive. Once everyone was in attendance and properly acquainted it was time to start our Italian Cooking Class!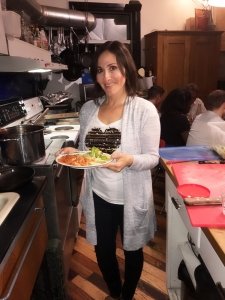 All of the food we prepared for our Italian Cooking Class was taught to me by my mother, who's from Calabria, Italy. I gave everyone handouts so that they could follow along as well as make all this wonderful food at home. We started off with our famous Bilotta Family Tomato Sauce- which is a staple to so many Italian dishes. If you want to learn to make one thing you should learn how to make a sauce because it's so versatile and can elevate so many different foods.
After my sauce demonstration everyone had an opportunity to bread their own chicken or eggplant-which is a very fun but messy task! After, those who were interested got to fry up their chicken or eggplant to get it nice and brown before the oven. Once everything was fried it was layered with sauce and cheese then into the oven it went! While we waited for our entre to cook I continued our Italian Cooking Class by explaining how to make a perfect Italian Vinaigrette, however at this point everyone was having so much fun connecting my salad lesson went by the way side.
The night hit a snafu once it came time to fill our cannoli, our chocolate chips kept clogging our piping bag! So we resorted to the less pretty option of spoon filling them but they still tasted just as good! As the saying goes; it isn't an Italian Cooking Class without a cannoli catastrophe!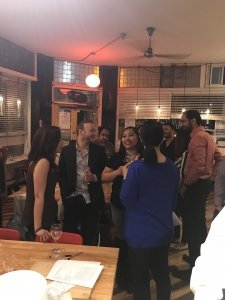 Our meal was fantastic but of course it wouldn't be complete without 2 lovely glasses of wine and I even caught a few sneaky singles trying to get a third! As our night drew to a close there was a flurry for number exchanges as everyone said their final goodbyes and I set off to clean the kitchen. I cannot wait to host our next Flirt with Food cooking class at the Depanneur.
Is there something that you want to request we make at our next Italian Cooking Class?
Let me know in the comments bellow!