How to Make Interfaith Relationships Work!
A few weeks ago on the Dating and Relationship Show I spoke with my good friend Meera Solanki Estrada on interfaith relationships, where they go wrong and how to make them work. Meera is the founder and editor-in-chief of Fusia Media, an online lifestyle magazine catered to Southeast Asian women. She herself is in an interfaith relationship and besides discussing the general dos and don'ts of interfaith relationships, she also shared her own experiences.
When discussing some of the challenges faced within an interfaith relationship, I asked Meera whether or not she believed a couple's love could overcome their struggles with religious differences. In a perfect world, we'd all like to believe love conquers all, however, with faith being such a huge part of who we are, sometimes our love for another person cannot out stand our religious beliefs. Meera continued to back up this idea sharing that in order for an interfaith relationship to work, "you must be willing to have these real conversations with your partner and with yourself. Are you open to other religions? Are you accepting of other religions?" Once you're able to answer these questions honestly and genuinely, only then can you move forward in an interfaith relationship.
Naomi Schaefer Riley, the author of 'Til Faith do us Part also proclaims to the real challenges interfaith couples face. From her own research, she's arrived at the conclusion interfaith marriages are generally more unhappy in terms of when they go further down the road because people tend to grow more religious in their older years. The root of this problem stems from the fact that the couple didn't have conversations discussing their differences in faith from the beginning, therefore in their later years as they become more religious, many of their issues in difference arise.
What are the Challenges of an Interfaith Relationship?
As the discussion continued, we began to focus on Meera and the struggles she's faced personally by marrying someone of Catholic faith while she is Hindu. The first challenge that came to mind for her is meal prep; as a Hindu, Meera is very against eating beef, for it is known as a sacred animal within her faith. On the other hand, her husband loves meat and so when preparing meals, they've had to come to a compromise on what that can eat together along with their children. Meera says their dietary preferences was definitely something they discussed before marriage and despite their differences they are very respectful of their choices. As for their children, although her kids don't eat beef now, Meera claims if down the road her children made the decision to want to have it, she wouldn't mind or be offended. A few other challenges Meera brought up in discussion were going to different places of worship and not knowing the rituals, as well as deciding which religion to teach their kids. Nevertheless, like meal prepping, Meera and her husband dealt with their issues head-on and have always remained open to sharing and adapting to each other's religious faiths. She even shared how she and her husband have taught their son, Milan to recite both Catholic and Hindu prayers at night. How sweet is that?!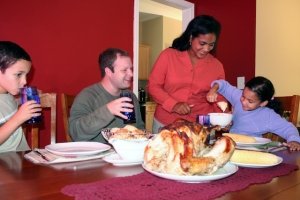 The 5 Key Factors to Successful Interfaith Relationships
As we grew out of discussing the challenges and issues many interfaith couples must deal with, we decided to take a turn to the positive side of interfaith relationships. These are the 5 key factors Meera shared with me are crucial to having a successful interfaith relationship!
Respect- This is especially huge in interfaith relationships because you have to have genuine respect for this person's religion or belief system. You have to understand that their family may not necessarily respect you or understand you, so you must have respect for their family's time in accepting you.
Over-Communication- You need to over-communicate with your partner before walking down that aisle and intentionally committing to each other for life.
Celebrating Your Differences as well as Sameness- This is a major pro being part of an interfaith relationship because you get to commemorate why you love and accept each other not only for what you have in common but what make you both different and unique!
Practicing the Fundamentals of Your Faith- What is the core of your faith? Whether it be compassion or love, practice those values and show your partner what that is so that they can share and express these positive values with you. By doing this not only will they understand your relationship with your faith but they will be more understanding of how to cater to you when you need that time to practice your religion.
Educate Yourself on your Partners Faith- When it is time to explain your partner's religion to your children or your family, you have to be somewhat well-versed in that other person's religion so that it can come from a genuine place of wisdom and respect.
To hear the full discussion on interfaith relationships with Meera Solanki Estrada, check out the show recording!