Sometimes people ask me, because of my experience as a dating coach and matchmaker, if they should whiten their teeth? And I usually reply, 'Do you want to meet someone with white teeth?' and they say Yes, and we move onto something else. It's so obvious, I seldom follow up on dental issues unless they're a stand-alone tragedy in my client's mouth. But just recently, I myself was offered professional teeth whitening in Toronto at Archer Dental, and so of course for the benefit of my blog readers and Instagram followers I took the opportunity to experience Venus brand teeth whitening systems. Hah, just kidding. I did it for me! But you can read all about it here, and see just what happened…

There are many approaches to teeth whitening and there are many homemade remedies made with lemon or lime peels, baking soda and sea salt. There are peroxide strips sold by all the major toothpaste brands, and there's professional whitening services offered almost exclusively by dentists. The latter also comes with some options; most dentists offer either take-home trays, or in-house laser whitening, or both.
Archer Dental offers both Venus Whitening Pro, and Venus Whitening Max (take home trays, and in-house photo activated whitening treatments), and they were kind enough to offer both to me in exchange for this authentic tell-all blog post where I relate ALL that happened over the course of two visits to Archer Dental Rosedale. And trust me, my friends and clients can vouch for the fact that I don't sugar-coat anything!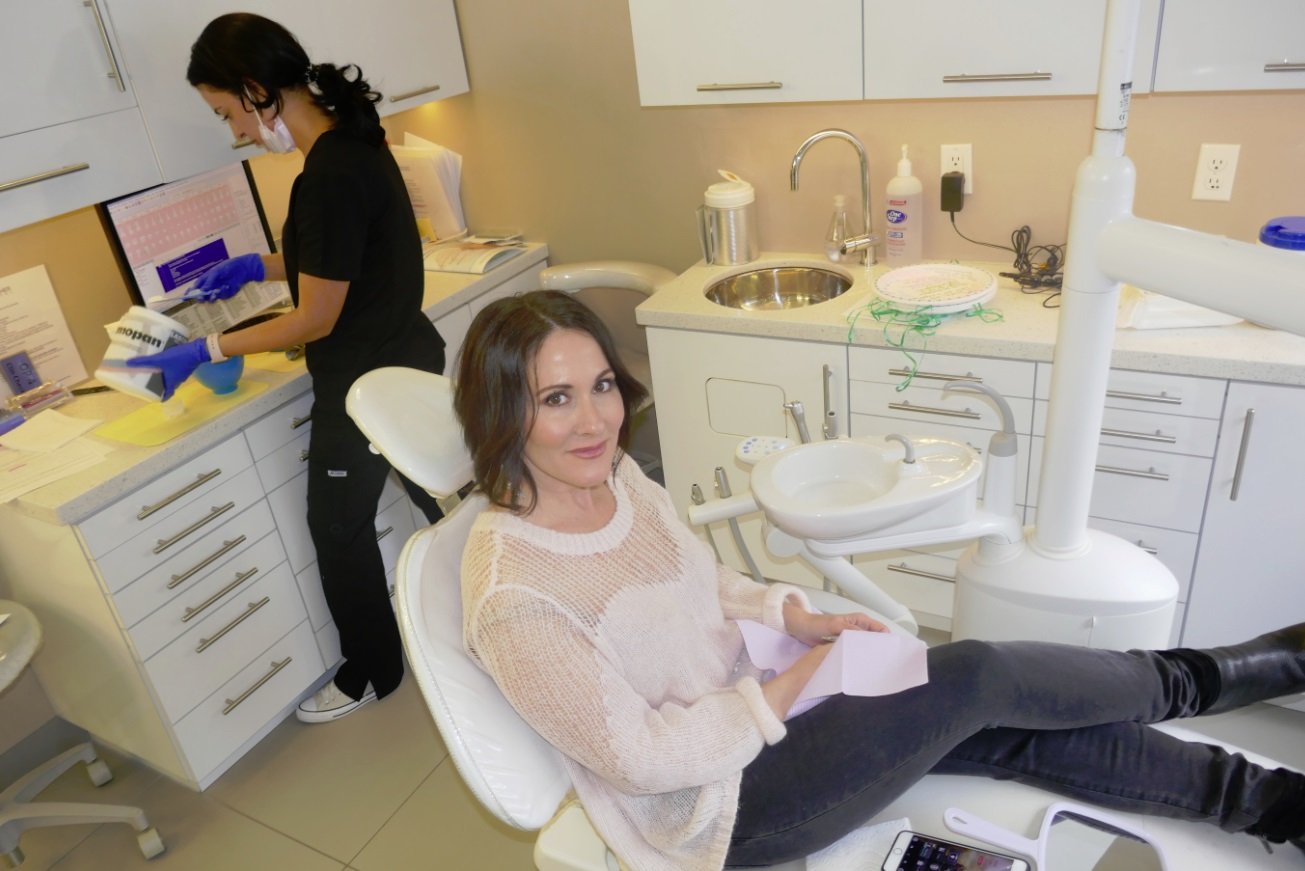 My experience with this downtown Toronto dental clinic began in February 2018 when I visited their 600 Sherbourne St (at Bloor) location. Its on the eighth floor of the Sherbourne Medical Center, and there's a $10 flat rate parking lot in the back, which is not too bad for downtown.  In these photos it really doesn't look like I need teeth whitening, but that's just the camera flash kindness; up-close there's staining and I have a personal phobia of my teeth turning brown.
Staining can occur by drinking tea, coffee, soft drinks, red wine, and especially smoking (which I alway recommend my clients stop, because yuck). Lifestyle is not the only contributing factor, many people have yellow teeth genetically, and the aging process can also bronze teeth over time. But fear not readers, your pearly whites can be brightened with modern technology, and my smile is living proof.
February 2018   My first visit started with a preliminary cleaning and some brief analysis by Olivia the dental assistant, then I met Dr. Natalie Archer.
To access the most powerful tooth whitening solutions on the market, there has to be a trained medical professional with a license to be held accountable by The government to ensure it's used safely, and so it was that Dr Natalie Archer herself who came into her dentist's operating room that day to inspect my teeth and gums.
Dr Natalie Archer is famous among Canadian medical practitioners as the driving force behind D.E.A.R, the Dental Elder Abuse Response group which is leading the charge to make it illegal to ignore your elderly parents or grandparent's deteriorating dental work.  We talked about my bad habits (I grind my teeth like crazy), and then she green-lit myself and my mouth for both Venus teeth whitening treatments, assigning her best dental assistant to the project.
Olivia played a big role in my Instagram feed that first day, and my viewers loved her.  I liked her too, but she really put my mouth through an intense work-out.
We'll skip through the cleaning that happened next to ordeal around me being fitted for the Venus Whitening Pro take-home trays.  These are custom fit, and so that involves taking impressions which Archer Dental does with alginate molds. You may have seen all this before as I shared every step of the encounter on my instagram @Laura_Bilotta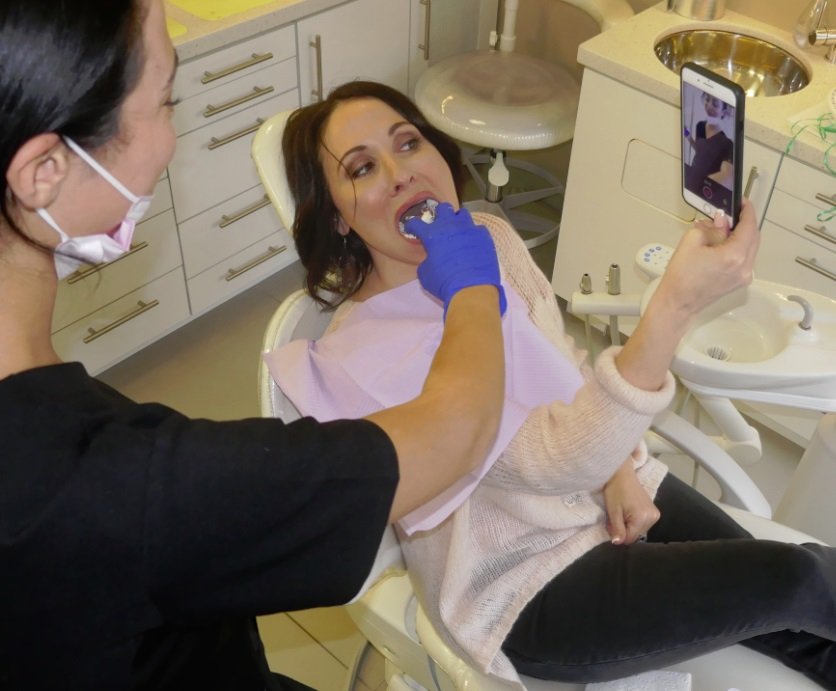 This process starts with the dental assistant taking an impression of my bottom bite.   There are two trays – one for the top bite, and one for the bottom. These are filled with fast-drying cherry flavoured alginate. When the dental assistant places them on your teeth the liquid is viscous, and you can feel it cold on your gums. Then she waits one minute and pulls the tray away, and the now firmer jelly inside makes a suction sound as the tray leaves your mouth. It's not a comfortable experience, but they make it nice and quick!
The dental assistant showed me the impression and explained how this is just a temporary 'negative mold' from which there will be another positive mold struck in a dental lab.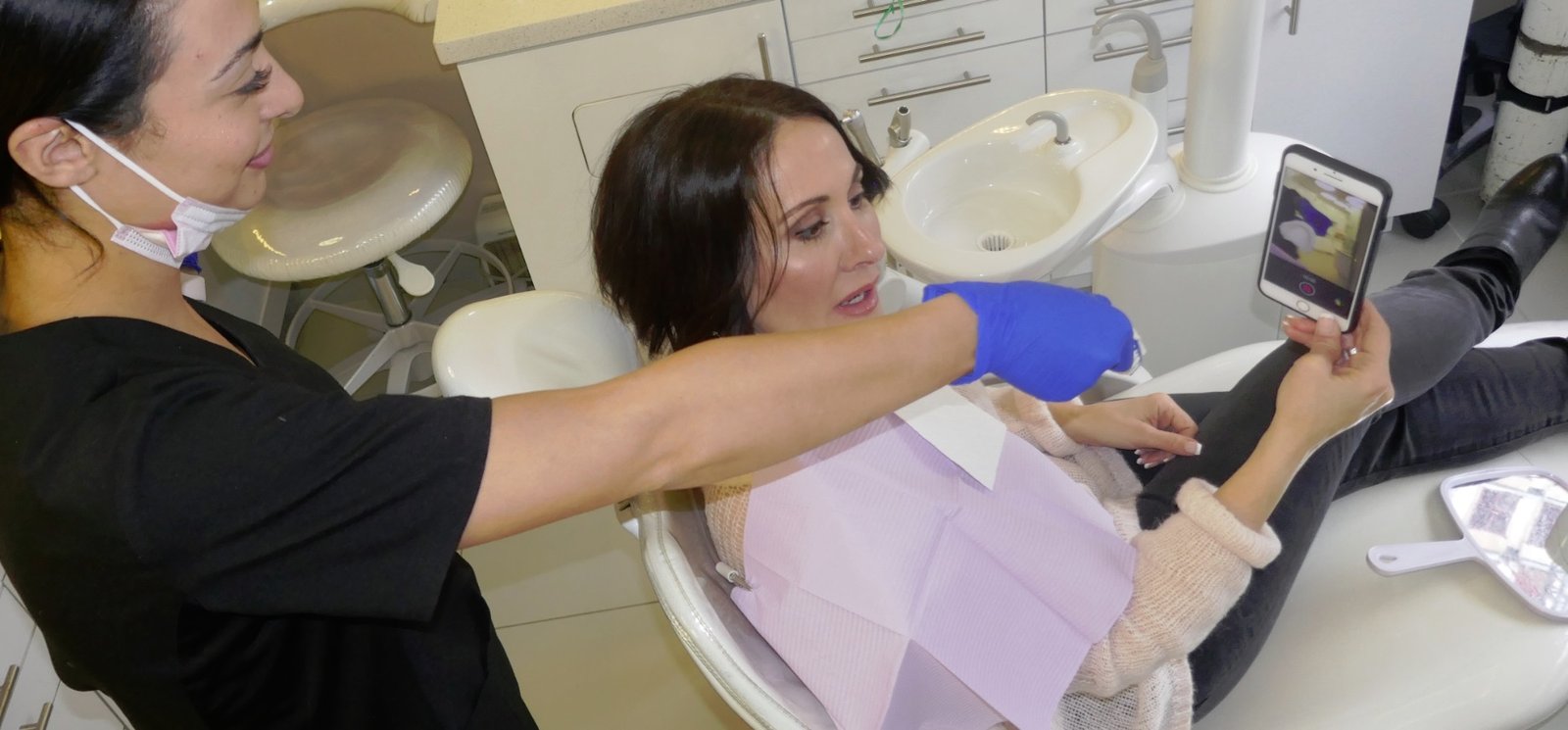 Its from that more durable ceramic positive mold, an exact replica of my bite, that a lab technician will create the form-fitting plastic mold that I will fill with the whitening gel at home. I get two syringes full of a 20% buffered peroxide solution, and so I will be able to do this at my convenience.
Second Trip to Toronto for Teeth Whitening
Fast forward three weeks and the custom fit Venus Whitening Pro trays were waiting for me at Archer Dental when I returned. Christina was my assistant that day, and we soon discovered that her mother was also a Bilotta, and so we bonded quickly. Of course it doesn't hurt that she's also a total gem!
Below you can see the ceramic mold that was created at the lab.  My name is written on the bottom in red Sharpie. The good people at Archer Dental will let me keep this, or they will keep it handy for me should I require trays made again in the future. The plastic tray on the right is what I will wear on my teeth for 30 minutes each day until the program ends.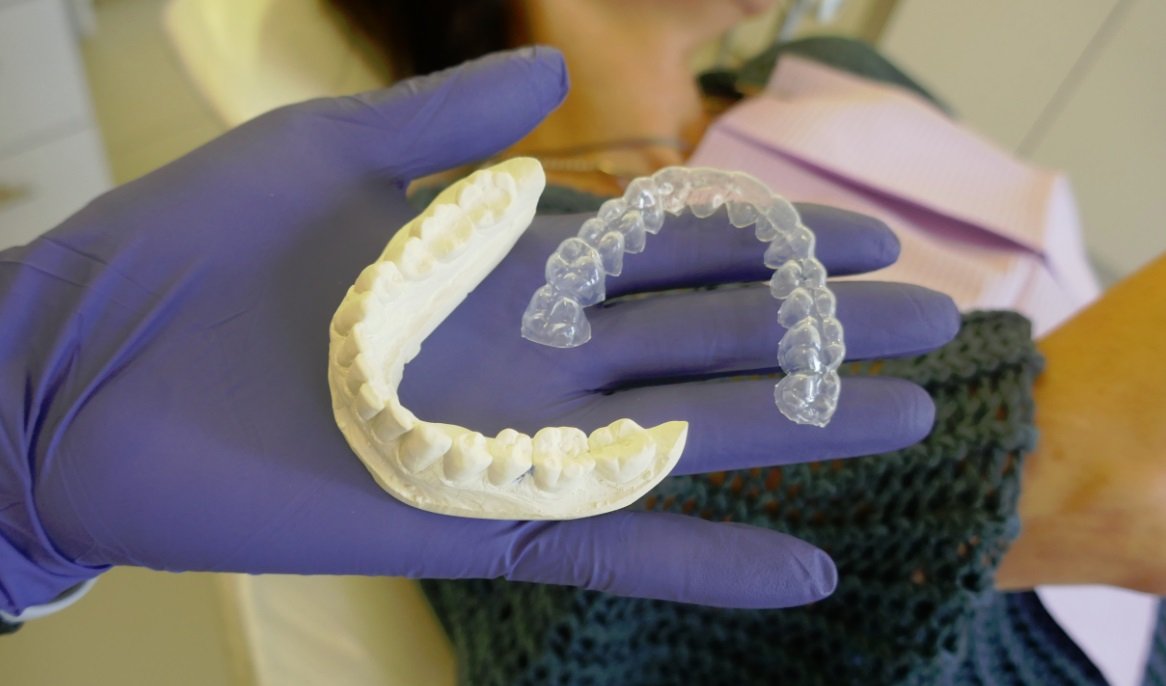 The two top and bottom plastic trays are mine to use for this whitening cycle and in the future. This is Venus Whitening Pro system is where you get two syringes full of whitening peroxide paste and both trays, top and bottom inside a plastic carrying case. This product plus fitting is available at Archer Dental for approx $150.
The second visit was definitely more high tech and was all about delivering Venus White Max which is an in-office whitening system utilizing 38% hydrogen peroxide as the active ingredient, with potassium nitrate (to minimize sensitivity) to whiten my teeth more immediately.  So once again my mouth had to be prepared for the treatment.
We'll skip through the cleaning and polishing and get right to the whitening. Within twenty minutes of sitting down I was experiencing full cotton mouth – Christina the dental assistant, was literally stuffing my mouth full of cotton. Then she applied the gingival tissue barrier, which is light-cured and that means I had to wear the funky sunglasses. These are not needles that you see in the pictures, and there is no pain. Christina is simply going around the edges of my teeth with a green minty paste that she hardens into place with a special blue light.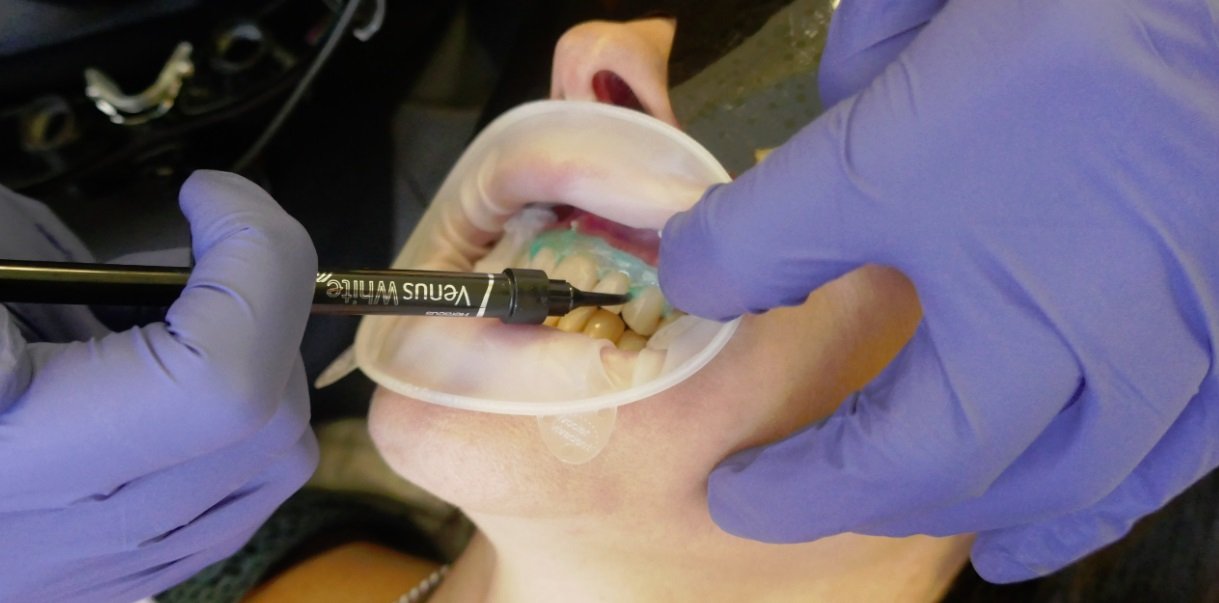 The green minty gingival barrier is meant to reflect the heat from the upcoming chemical reaction away from my soft gum tissue. It works, but Christina admits the low viscosity gel is challenging to apply evenly.  I had to remain still and not talk, which is challenging for me! Tooth sensitivity during the procedure is common in almost half of all patients; and more than half report some minor gingival irritation. This is why the photo-light-cured gingival barrier is applied – the substance is designed to maintain an effective boundary between the whitening serum and sensitive human gums. This material hardens quickly, and usually with one pull the whole mass is removed from your teeth after the procedure. Patients don't generally see any of this, or even know what comes in the Venus White Max kit, as the Dental Assistant pretty much does everything.
Each Venus White Max kit contains:
• two syringes of hydrogen peroxide (0.96 mL)
• two syringes of activator with potassium nitrate (0.24 mL)
• one syringe of gingival barrier (1.2 mL)
• seven dispensing tips (five, 22 gauge Flock tips and two, 20 gauge Black Mini tips)
The whitening gel is first activated using the chemical activator (and its action will be further enhanced later with the photo activation), and its applied with the special applicator tips that come included in the package.  Remember this only happened after my teeth and gums were protected with cotton, and the green gingival barrier was light cured into place.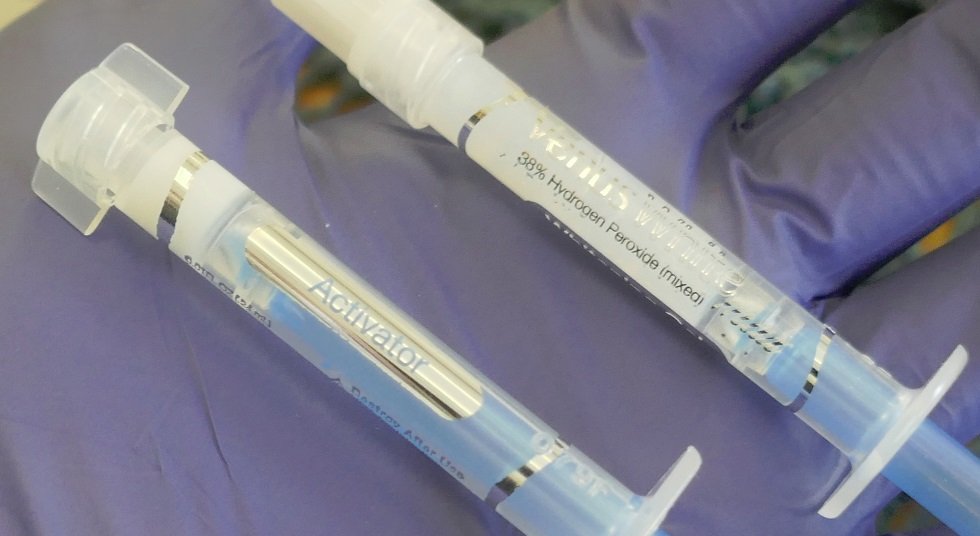 When everything was ready, Christina began mixing up the whitening serum. The gel is mixed using a syringe-to-syringe technique (one syringe contains concentrated hydrogen peroxide and the other contains chemical activator).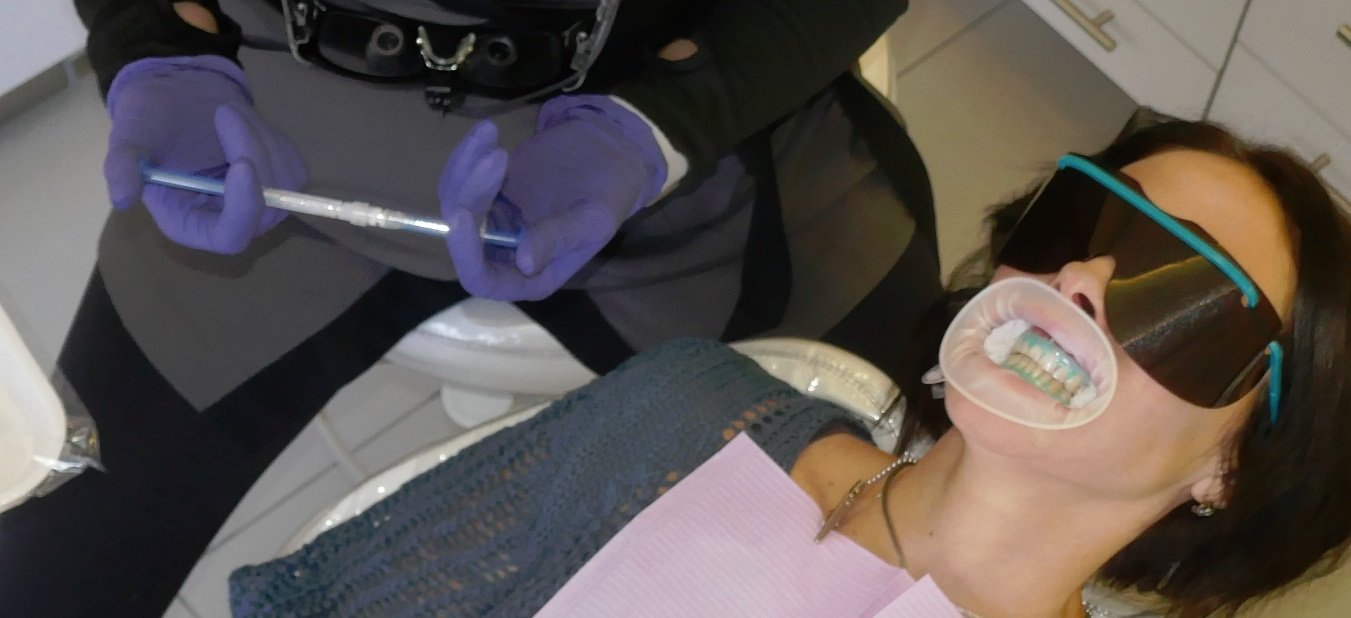 These are my most courageous photos. Please don't be looking up my nose.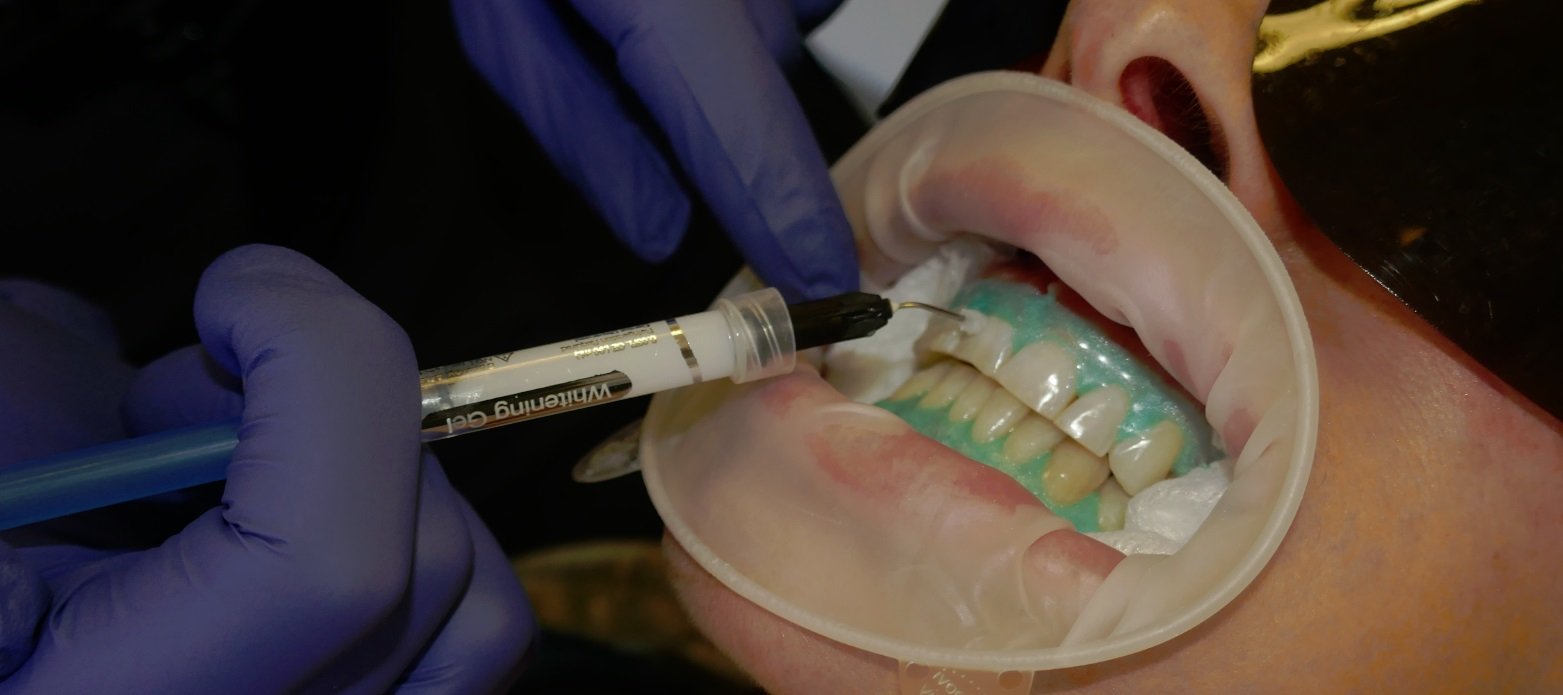 Yes , its a beast to beauty transformation, and below I look like a banshee with green gums and white teeth. This would be a good look for Halloween!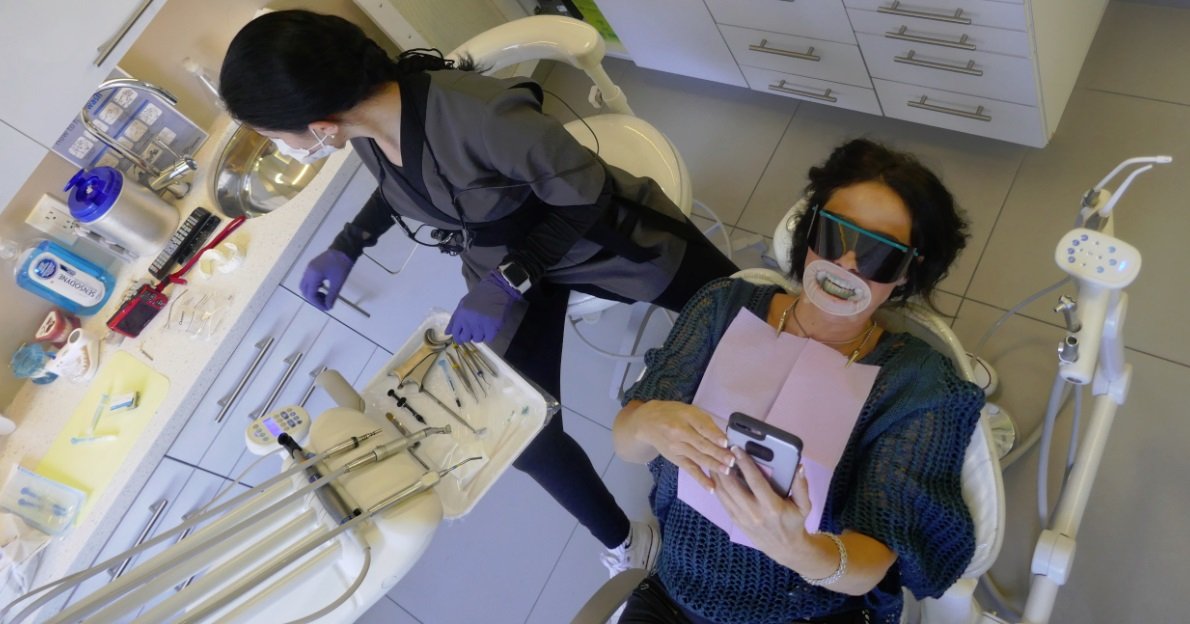 Photo activated teeth whitening is where things get bright with a laser!
The hand held photo activator isn't a laser at all of course, but just a really bright blue light that nobody is supposed to look at directly.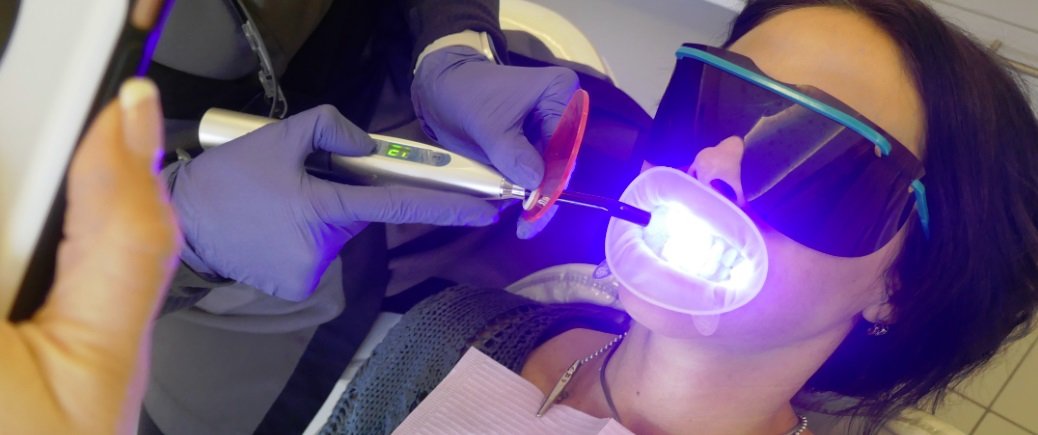 Does this seem like its a lot of bother just to get a whiter smile? Is all this really worth it? I think so. Nowadays, having white teeth doesn't just boost your esthetic appearance, but it also boosts your self-confidence and sense of self-worth. People with bright smiles make great first impressions, and that makes them more noticeable during speed dating and at events and at their job.  A set of bright white teeth helps you attract a healthy mate and makes you more desirable overall.
Archer Dental has a Whitening for Life program, as long as someone is a patient and comes in for regular check-ups which they call recommended hygiene assessments the admin will give the patient free syringes (up to 3 a year) that they can use in their Venus Whitening Pro take home trays.
Do you want to get the same in-0ffice dentist supervised Venus Whitening Max treatment? and the take-home Venus teeth whitening trays? This whole experience and both teeth whitening service(s) can be your for $395 hst.  If you just want the custom-fit Venus whitening pro take-home trays, that only costs $150 hst. Archer Dental has three locations in Toronto.