Only 48% of Canadians report being happy with their sex life. So I invited Sexologist Den Temin, founder & facilitator of Sexplore to speak with us on the Dating & Relationships show to talk about sex in relationships.
Sexplore is a catalyst for change. Den's mission is to create a pleasure revolution to change the world one orgasm at a time through couples counseling, workshops & sensual retreats. People get connected to themselves & to each other through sex in relationships & that energy permeates throughout every aspect of people's lives!
Despite what's portrayed in the movies, sex therapy isn't only for when things are wrong stale in a relationship. Den explains that sex therapy is about creating a sex positive environment from body image to intimacy so people can become self empowered to overcome obstacles. Sex therapy can also be for people who are simply curious because sexuality changes throughout your lifetime. I'm a firm believer in being open and honest about sex and communicating with your partner about your needs and desires. If there's something you want from your sex life then hiding it is the worst thing you can do, you won't get what you want and your partner will be unhappy if they realize they aren't fully satisfying you.
Den let us know the top three areas she counsels on the most: 'I don't feel connected to my partner or myself anymore', 'performance anxiety', & 'exploring new desires: how do I tell my partner I'm into something they might not be into'. She also covers topics such as relationships with kids, difference in libidos, and how to keep sex alive throughout the years. These are all natural feelings and issues that many people deal with, so she was happy to discuss them with us.
Challenges about sex in relationships need to be faced head on
Sex in relationships changes as couples evolve and challenges with sex arise at all stages of life. I asked Den how sex changes in relationships when a couple has kids. We all know that hormones change while a woman is pregnant and libido changes too. This causes questions around 'can we have sex while pregnant', 'what positions can we use', 'will we hurt the baby' but Den enforces that sex isn't only about penetration! She says sexually connecting with your partner in different ways can be used both before and after your baby is born. This can be through massage, touching, having a sensual outing like watching burlesque or eating an aphrodisiac dinner. Simple acts like this can help you reconnect with your partner if you are having challenges with sex or penetration throughout pregnancy. Sex is about connecting, not just penetration, so when you have this mentality it can make your 'sex problems' easier to overcome.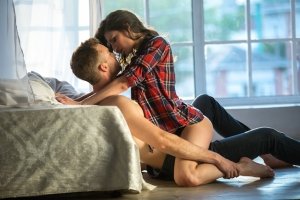 'My partner wants to have sex more than I do' is something that a lot of people can relate to. Comedian co-host Peter Anthony expressed that men are biologically pre-disposed to spread their seed so they naturally seem like they want sex more often. Den told us that yes men like sex, but libido changes and all sex in relationships is different. Women value many aspects of their relationships, but when they come to Den in confidence they reveal a relationship with good sex is equally as important to them as it is to men! Therefore, you have to communicate with your partner because there may be a reason why your boyfriend or husband wants to have sex more than you or vice versa. You need to get on the same page by expressing your desire levels since good, frequent sex is important to everyone!
I asked why it seems couples face a decrease in sex within long-term relationships and Den put it very simply: busy and stale. We get busy with work and family and sex can become stale in a long-term relationship when there is a lack of knowledge and willingness to spice it up. Den gave us some tips to reignite sex with your partner. She reiterated that again, it is about the connection element of sex. First you have to reignite the connection and then you can reignite sex. In addition to the previously mentioned massage, touching, burlesque and aphrodisiac dinners, couples can go to sex workshops, watch porn together or even masturbate together. All of these things are rooted in creating connection in sexual desires and fantasies and they center around communication, which is key! Communicate that you want to increase connection first by suggesting workshops, watching porn, masturbating together (which is a healthy form of sex) and your sex life will be reignited because you are open in talking about fixing it.
Being open with your partner through communication can help solve issues around willingness for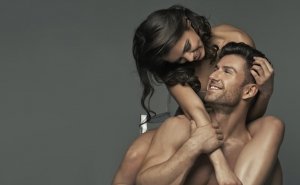 sexual exploration. Den said that 90% of her practice is about one person not feeling comfortable doing something the other person wants. People are shy and it's because there is sex negativity & sexual taboos that society instills in us. A primary example is within BDSM circles regarding sexual non-consent or 'rape fantasies'. These desires are not unhealthy, but can be very hard to express to your partner. Similarly, Peter Anthony chimed in and spoke about a situation regarding biting that his partner kept doing until he spoke up and said 'enough with the biting'. In exploring kinks and sexual desires, Den coined our phrase of the day saying 'don't yuck my yum'. Simply translated, your kink may not be my kink, but your kink is ok. We need to communicate what we do and don't like to our partner(s) in a way that isn't shameful. Communication of sexual desires can be challenging, however, we must always reinforce 'don't yuck my yum' to create a sex positive space and further a connection to overcome obstacles.
I had a great time chatting about sex in relationships with Den Temin and how to overcome challenges married or committed long term couples may be facing. I certainly learned a lot about sexuality and intimacy between partners and how a happy sex life can equal a healthy relationship. You can listen to this episode of the Dating and Relationship Show here and be sure to tune in every Sunday night at 9pm to listen to current episodes!