Maintaining a healthy relationship takes a lot of work. But if you are trying to run a successful business, manage being in the spotlight and maintain a healthy relationship like our special guest Jana Webb from the Real Housewives of Toronto, it can certainly become a lot harder. On the Dating and Relationship Show I sat down with Jana and her boyfriend Ryan Redwood to talk about dating and life as an entrepreneur!
Life and Love as an Entrepreneur and Real Housewives of Toronto Star
Jana and Ryan have been dating for close to 8 months, all the while Jana has been dealing with the fame from her hit reality show Real Housewives of Toronto and fitness empire Joga. I asked her how she does it all and still manages to have the time to devote to Ryan and their relationship. She admitted that she is still learning how to get better at it everyday. She said that the most important thing is that she is always open with Ryan about the struggle of managing all three. An open an honest approach about this is what works best for them so they can either go through it together or Ryan can decide if it is too much for him to be a part of. Ryan has shown his support for Real Housewives of Toronto and her success since the beginning, so Jana says he has never been a flight risk. But overall, as long as she is straightforward with him about all this is going on in her life and business, it makes it easier for them to support one another.
Of course dating a local celebrity and managing their relationship being in the spotlight is not something many men anticipate when they first get together with someone. However, Ryan takes the responsibilities of his powerhouse girlfriend with a grain of salt and has learned many things from Jana and the success that surrounds her and Real Housewives of Toronto. He says that she handles her role very well and when they are out on dates and people approach them he sits back and lets Jana handle it. He is of course always there to support her with her fans from Real Housewives of Toronto and says that he has learned to become a great photographer by doing so!
Supporting Each Other Through It All
The support and care they have for each other is like something out of a movie, so I wanted to know how it all began! From the Real Housewives of Toronto and mega publicity Jana has gotten, many people think they have gotten an inside scoop on Jana's life. But many people don't know that just before taping Real Housewives of Toronto Jana was in a severe car accident, and was recovering from a brain injury all throughout the series. This accident factored into how their love story began. Jana was introduced to Ryan by his courageous sister who sent Jana an email at work claiming she had the perfect guy for her. But Jana's brain injury caused her to have cognitive and visual side effects that not many people know about. While getting back into the swing of things with Joga, she faced a lot of challenges since she couldn't read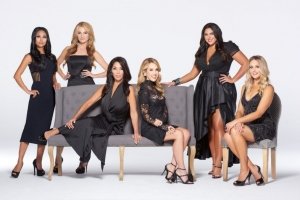 her emails or even look at a computer screen. So it was quite funny when this email from Ryan's sister was read out to Jana by her assistant who was helping her go through her inbox. Jana originally thought nothing of it, but attached to the email were a couple of pictures of Ryan, and upon seeing them Jana thought he was super cute! She gave it a shot and they started texting. However, due to Jana's brain injury, she suffers from short-term memory loss. Therefore, she often forgot to text him back so their relationship could progress. Ryan thought alright, I can take a hint and chalked it up to Jana being uninterested when he didn't hear back from her. It wasn't until weeks later that Ryan ran into her at a local Starbucks and saw Jana talking to one of their mutual friends. So by the workings of fate, he was able to reignite that spark and continue their conversation from there! Now, 8 months later, Jana still suffers from short-term memory loss, but they have a running joke that it works in Ryan's favour since he can take her to the same restaurants and they always seem brand new to her!
Jana's recovery was a solo battle for a long time and she claims that it wasn't until she met Ryan that she started to move towards a full recovery. Jana claims that Ryan is everything she has ever been looking for and truly feels that because of this, the heart heals. She found herself recovering quicker from standard side effects after she met Ryan. For months Jana felt constantly nauseous, but when things started to pick up between her and Ryan and she felt his love and support, her nausea subsided. She was filled with more energy and happiness and this lead to a quicker recovery, not only for her, but also for her family. Before she met Ryan, Jana's son Will was her soul care giver and this caused him to have to grow up pretty fast to help his mom with her every need. Ryan in fact is the first boyfriend that Will has ever met since his parents divorce. In blending their families, this allowed Will to step down from being a full time care giver back to a normal young boy again. Since Ryan has two sons that are older than Will, he has been able to enjoy being the youngest and having loads of fun while knowing his mom is being properly taken care of!
Almost all aspects of Jana's life have changed for the better since meeting Ryan! They enjoy doing many of the same things like walking the Boardwalk, sharing good red wine and trying new foods, and of course being surrounded by their boys. Their love story was truly inspiring and a great reminder that life and love as a successful entrepreneur is not easy, but it is doable. To listen to the full show and hear more of our conversation with Jana and Ryan about their dating lives before each other, favorite date spots in the city, their tips to avoid jealousy, and Real Housewives of Toronto visit www.640toronto.com