Most of us remember what it was like to play the field and date in our 20's and 30's. Maybe you got married or took a break from dating to focus on your career. But if that marriage didn't work out or you have decided you want to get back in the game and are now over 50, you are amongst a group that our special guest on the Dating and Relationship Show calls a Later Dater, so we sat down to discuss the dating lives of mature singles.
Our guest expert Valerie Gibson is a wonderful Author and relationship expert who started the worldwide "cougar" trend in 2000 with her book Cougar: A Guide for Older Women Dating Younger Men and her latest book is The Later Dater: A Guide For the Newly Single Woman Over 50. I was also joined by Vesna and Tim from CoCo Beauty Bar to share their story as a real and inspiring example that mature singles can still find true love.
Life and Love as a Mature Single
While sitting down with Valerie I asked her 'how did you start specializing in mature singles?' She responded with a laugh, 'because I got to that age!' Valerie herself has had 5 marriages, some to younger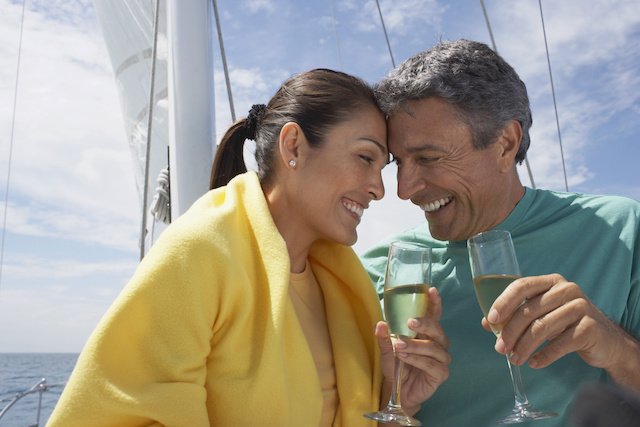 men, some to older men, so she proved to be just the right person to ask about mid-life dating. She found that as a relationship coach helping clients that were 50+, many women who were divorced or widowed mid-life were having a hard time getting back out there and figuring out online dating and the popular apps. Similarly, Vesna and Tim went through a long period in their lives where they felt like they just weren't meeting 'the one', until they found each other.
I asked Valerie about the top challenges of dating as a mature single. Being 50+ and thrown back into the dating world, the biggest obstacles are simply where to meet someone nowadays. Since at this point in your life you are no longer going to engage in activities where there once was a sea of potential partners like bars or clubs. This leads to less social outings and leads mature singles to get online, which accounts for the highest population of people on dating sites. But many people have a tough time navigating the sites and understanding the best practices to meet someone. But if you consult someone on how to properly utilize dating sites, it can work out tremendously for you, just as it did for Vesna and Tim who met online in their early 60's!
Online Dating as Mature Singles
The happy couple met on Plenty of Fish, but they told us that it wasn't an overnight success. Vesna was on multiple sites for months before she became aggravated by the men she was meeting and decided to get offline. Man after man she would engage with seemed to want one thing, sex. But Tim was different, and since they met while he was in Britain, they started the first 5 weeks of their relationship abroad and simply talking over the phone before they finally met. Valerie and I weighed in on their love story and use of online dating to meet each other. Overall, their success came because for one, they were both serious about finding a suitable partner. Both Vesna and Tim set their age ranges on their dating preferences within 5-10
years of their own age. This is key when it comes to weeding out the people that aren't looking for the same sort of relationship you are. If men or women tend to go 15-20 years younger than themselves, that's fine, but often times the people who are looking for someone in such a younger age bracket aren't looking for anything too serious. Vesna and Tim worked out tremendously since they were realistic in their expectations and were seeking someone who had similar life experience to them, who would understand the aging process and health issues, and of course, were more skilled in bed. Men and women can become tired of chasing the next young hot thing to keep up with and have to suck in their belly all day. When trying to find a partner online mature singles need to be realistic about expectations regarding age, appearance and physique. Even Valerie said it herself 'you may not always find an older man that looks like George Clooney and drives a Porsche, but there are thousands of gorgeous men out there that are willing to give you what you want in a relationship, don't be unrealistic'.
In regards to age ranges on dating sites, we discussed that often times we see older men with much younger women, but does this create a disadvantage for older women? Valerie says no. If older men like much younger women then that is who they will always go for. Truthfully it takes some of the load off for older women since this wont leave older or same age women fighting for the mans attention. With that being said, it just takes the right person to change anyone's mind, and frankly, women enjoy pursuing younger men today too! Before, the cougar trend was basically unheard of and Valerie thinks the once male dominated field of medicine is to blame.
There was a recurring myth that once a woman hit a certain age, she no longer had any sexual desire. But Valerie, as well as Tim and Vesna say that is absolutely not true! A person's sex drive can stay consistent all throughout their life if they are with the right person that fulfills their needs. Many have thought that after
a woman goes through menopause she no longer has sexual desire, but this is also untrue. Some women in fact can have even higher levels of energy and sex drive. This led us to wonder, if this is true, why are older women dating younger men so stigmatized? Because a woman in charge of her sexual life, outside of reproductive needs, is a threat. However, to younger men, these older women are very endearing. Valerie has had her fair share of experience dating younger men, and was even married to one who was 14 years younger than her. She said that older women present themselves as a challenge. They are independent, sophisticated, don't want to be tied down and probably don't want kids. This is awesome to men, and a younger, energy–filled stud is perfect for an older vital woman.
Finding love as a mature single is more difficult, but not impossible. The pool of available men and women are different than when someone was in there 20's and 30's. But even after all these years, there can still be 'the one' waiting out there for you. Just like there was for Vesna and Tim and even Valerie herself. To listen to the full show and learn more about how to get out there as a 50+ dater visit Dating Over 50.