Single in the City was at the 2016 National Women's Show
On Saturday November 5th, at 11:45 am Laura Bilotta the CEO of Single in the City was honoured to provide on-stage entertainment at the National Women's Show in the Toronto Metro Convention Centre.
During that prime time window, trade show attendees stopped to watch Laura reenact the classic early 80's TV show, The Dating Game.
Producing and performing a live production at the National Women's Show is a big deal!
Laura should be very proud of herself and the impact she made on this huge show.
The National Women's Show has over 450 exhibitors who all compete with each other to grab and hold peoples' attention by giving away free food, coupons, and gift certificates.  This is a must-attend gathering for women of all ages who like to graze through a trade show with friends, or with their moms.   There's something for everyone here, and newbies are often overwhelmed by the sights, sounds and tastes of this generous show.  Attendees get offered samples of the best new foods and beverages that commercial companies have to offer at every booth in the food section, and the make-up people give away beauty products and …
On the main stage, the live shows are truly spell binding and draw in curious attendees like moths to a flame.  When Laura started the place was deserted and by the time she finished there were only a few empty chairs. With thousands of people in the room, the grandstand is also a magnet for showcasing new and exciting musical acts and entertainment. This is one of those special appearances where its possible for a 'star to be born' ,or a rare talent to be discovered, or at the very least for a smart business woman to get noticed by the people who need her most.
Laura Bilotta used the event to make herself and Single in the City more well known to the hundreds of successful professionals at the National Women's Show; her 'show specials' appealed to both male and female professionals, stuck in demanding careers. These people have trouble taking the time out of their busy schedules to experiment with love; they need a matchmaker who knows their challenges and who can find them a match among millions of people.
Laura Bilotta's Dating Game simulation was just like the classic television show in which a man asks three ladies questions about themselves before finally selecting one to accompany him on a luxury date experience paid for by the sponsors. In this reiteration of the classic program,  Jagger Gordon a well known 'culinary artist' and celebrity chef volunteered to be the bachelor, and on the other side of the curtain, three lovely ladies eagerly vied for his affection by answering his questions as smartly and as sexily as they could. They all wanted to go to Acqua Dolce Resto Venue and get there in a luxury stretch limo ride from A Celebrity Limousine. Laura got both of these referrals from her good friend, host of Inside Jokes on AM 640 Sandra Carusi. Thanks Sandra!
The Dating Game
The game played out was just as we remembered; one man held all the power as he asked three women questions that were deliberately provocative. He listened and judged … Its very old fashioned. Jagger introduced himself to the ladies as a chef by profession and then asked,
1) What is your fantasy with a chef?
He didn't seem surprised when, predictably, their answers involved them cooking sensual foods for him – preparing mangoes and honey cream desserts alongside explanatory movie references. The audience responded loudest when contestant number two offered herself up as a naked sushi platter, again with corresponding movie reference.
Contestant number three had a good answer to this .. she got applause too but I can't remember quite what she said.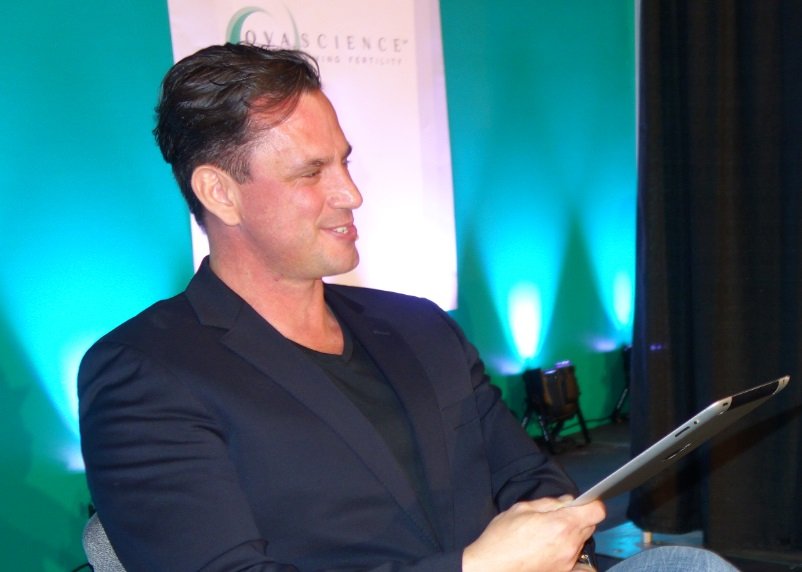 2) What one thing would you bring to a desert island ?
Contestant number one was really put on the spot.  She wavered from bringing a coconut but then ruled that out as she reckoned there would probably be some of those lying around, and then decided she would like to bring her cat.  The second contestant, having had more time to think about the question decided that all she really needed was a strong man on the island, and so she said she would like to bring Jagger. And this drew a round of applause from the audience!  After the ruckus settled down, the third contestant complained that all the good answers were already taken, by which I believe she meant the second contestant's answer unless she too was planning on shipping her cat.
3) Sadly this author cannot remember the third question. Maybe someone can help out in the comments? Oh… we gotta turn the comments on.  What else was asked and said? I cannot remember. But after just three questions, and without a whole lot of ceremony (no commercial break) Jagger made his selection.
Jagger picked contestant number three, although he said it could have gone either way.  He said that she seemed the most mature and that he liked the fact that they both had older daughters.
After the show, Laura Bilotta was a mini celebrity. She walked back to her booth to find a line-up of people waiting to take pictures with her and discuss her services as matchmaker and event host. Some ladies wanted to get more information about her book launch happening February 7th at Acqua Resto Venue in Toronto. Below is Laura in her booth with Mary Bratko who writes WeddingGirl.ca and is launching PrettyBird app, an on-demand mobile beauty service for sophisticated patrons who don't have time for salons.
Here's Laura with the CEO of DermVisage anti aging skin care products at the National Women's Show – Ursula gave Laura some samples to try and they agreed to work together in the future as skin care and dating advice are good companions.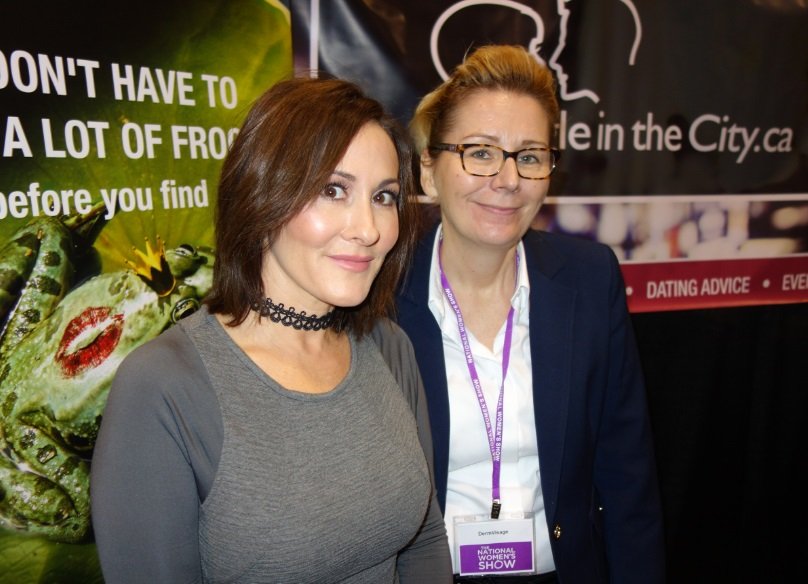 The National Women's Show in Toronto brought a lot of like minded people together.
Save
Save
Save
Save
Save
Save
Save
Save
Save