Adjusting after going through a divorce is hard, but when you have kids as well, adjusting to life as a new single mom can be even harder. Recently, on the Dating and Relationships show I spoke to three single moms about life and love in their situation.
I sat down with Sandra Carusi our executive producer and single mom of two, Daniella English, blogger and single mom of four and Devina Kaur an entrepreneur, writer and single mom of one to discuss the topic. They shared with us the hardest things about being a single mom, society's stigma toward single moms, their dating lives and how they do it all and still have time for themselves.
Since the divorce rate is climbing, Statistics Canada has discovered that 19% of Canadian children are living in single parent households – mainly single moms. Devina told us the hardest part of being a single mom, she felt juggling and time management of her two passions: her work as an entrepreneur and her young daughter was the biggest struggle. Although she is an entrepreneur and her time is flexible she still finds it hard to manage simply being there for her daughter as much as she needs to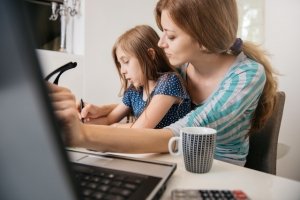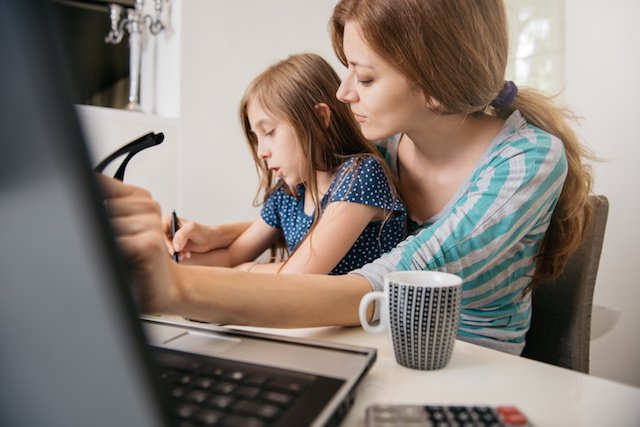 pick her up from school, have a meal together and put her to sleep all the while still making time to grow her successful business. Sandra let us know that there are so many little routines you have to manage for your kids, and now you have to do it all alone. From the wake up, getting ready and packing lunches routine, to the after school homework and activities, you are stretched pretty thin. And for someone in demand for social and fundraising events like Sandra, she has to try to squeeze in her personal life as well to be able to network and take care of herself. Adjusting to solo responsibilities when there was once someone else in the home to simply wash an extra dish or turn off that light switch is the biggest challenge. Daniella told us that this independent parenting lifestyle can make you feel like you are living life in extremes. With 4 kids of her own she told us that she feels like either her house is screaming and there is so much to do or when the kids go to visit her ex there is suddenly nothing to do and it feels weird that the house is empty.
Society is meant for couples
Doing it on your own is possible and there are more women today that are living as single moms just like these women. But this led us to discuss, why does society still have a stigma toward being a single mom? Ultimately, our society is a couple's society. From a young age we fantasize what it will be like when we get married and have a family – especially women. Marriage seems to validate women. No matter what kind of work you are doing or how you are making a life that is meaningful, Sandra expressed that if people discover you are married, it acts as an invisible seal of approval that represents "oh she's married, that's honorable, whatever else she is doing now can be seen as ok." Society also seems to feed off of couple interactions socially, since Sandra said that she was invited to fewer parties and outings with her friends after she got divorced because she would have to come alone and it wouldn't be the same.
The revelation of a c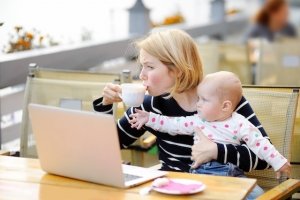 ouple's society was only part one of the stigma these women felt they faced. In addition, they shared with us the attitudes toward single moms they have experienced. The ladies shared with us that people see it as a girl's fault that she got divorced and is now a single mom. If the going gets rough and they express how stressed they feel, Sandra, Daniella and Devina find people say to them "well you chose this". It seems to be the woman's fault that she is in this predicament and divorced men are the victims of being married to witches. They expressed that it seems to people that no woman would chose to get divorced unless that's what she really wanted. But each of these women pushed back on that notion reassuring us that "when we got married, we didn't think oh my god I cant wait to get divorced."
With society seeming to cloud the heads of people when it comes to single moms; we see that is can also break the hearts and self-confidence of women who are going through it. Since we were speaking to Devina the spunky author of 'too fat, too loud, too ambitious', we asked her what advice she could give to other single moms regarding gaining a sense of self-confidence again. She encourages that single moms need to find ways to love themselves again as an individual, rather than the love you knew when it was attached to a partner in this couple identity. 'Discovering yourself' can sound so cliché, but you need to do exactly that in finding ways to know and love who you are again and what you can accomplish on your own. The more you love and believe in yourself the more you will be able to love others like your children and maybe one day a new partner.
Getting out onto the dating scene again as a single mom brings on a whole new set of challenges. Especially because Sandra, Daniella, Devina and even myself feel there is a shortage of quality men out there! From Statistics Canada we pulled up that in Toronto alone there are 683,000 single men for the 705,000 single women. Now that is just a tally of single men, with 22,000 less men than women, that already seems to set single women back from how many of those 683,000 are quality men! People seem to invest less time in dating now days since technology has taken over this intimate aspect of our lives and if there isn't charisma on the first date then it is easy to move onto the next 1000's of options. Daniella shared that she has found in her dating life men put in less effort because there are more options, but low investment never yields higher gain. All three of our ladies are still playing the odds out in the dating world and ideally would much prefer a single guy with kids than without.
As much as getting ready to go out on a date factors in a little me time, it is not the quality me time we
all need. I asked Sandra, Daniella and Devina about how they make time for themselves on top of everything else. They reassure that it is very tough. As a single mom who shares custody, you have to fit in everything you didn't have a chance to do in the one or two short days that your kids aren't there. As a result though, you learn to be more fluid and flexible in letting go of some of your things on the to do list. We all know super mom doesn't even exist in a two-parent household, so you don't have to feel defeated if you put some tasks off. Ultimately this fluid and flexible mindset will help fight off feelings of being overwhelmed or depressed. A positive mindset really is your greatest tool when dealing with everything being a single mom entails. You can't let bad things that happen skew your opinion that it is because you are a single mom that something went wrong. You need to know of the things that are important to you and make you feel like you again. Planning and sticking to those activities or hobbies even when you feel you are crunched for time will allow you to feel refreshed, happy and looking forward to when your kids come back to screaming in your house.
It was wonderful to speak with Sandra, Daniella and Devina about living as a single mom! These women are amazing and have so much to share that other women can learn from. To check out the entire show and listen to the rest of our discussion on life and dating as a single mom visit AM640.
Being a single mom means being constantly busy, our Matchmaking Service is perfect for people on the go who don't have time to waste sitting at a bar or sifting through countless online profiles, try it today!