The guests who came together on October 15th at Laura Bilotta's Flirt with Food – Singles Cooking Demo & Dinner Party got a special treat. These strangers became the first to try an exciting new concept: Singles Wine Tasting.  The group tasted four different wine varietals in a wine tasting challenge where the best taste buds won bamboo wine racks from Rosehill Wine Cellars!
Are you single? Do you love Italian food? Do you like to impress dates with your amazing home-cooking skills? Single in the City's Flirt with Food event was for single people looking for interesting new adventures in which they also learn some valuable life skills. On these evenings, Laura takes over the charming Depanneur kitchen at 1033 College St in Toronto.  Check her event calendar for the next occasion. Here's where she shares her historic Bilotta Family recipes and cooking techniques. This evening was a journey into Italian cuisine and the concept has become so popular now it has attracted its own sponsors.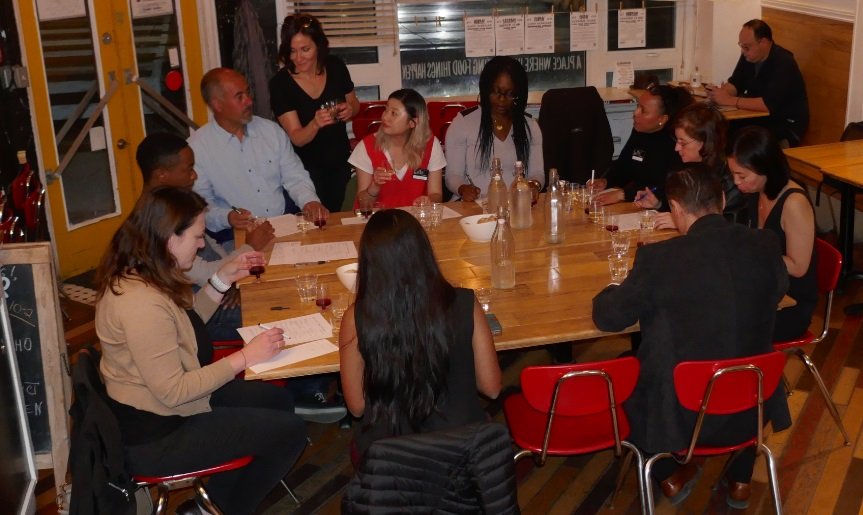 Rosehill Wine Cellars designs and builds custom wine cellars in Toronto and all across Ontario. They also sell wine fridges, wine racks, wine cellar cooling units, and all manner of wine cellar accessories. Indeed we learned how to host a wine tasting party on the Rosehill Wine Storage blog.  The Anderson Valley Copain chardonnay we uncorked had been in the cellar for three years. Originally bottled in 2016, the wine was only released publicly in July 2019.  So we wondered if the tasters present that evening could detect its age and inherent superiority in a blind taste test?
What is Singles Wine Tasting?
On Tuesday Oct 15th 2019, Single Wine Tasting happened in the form of an ice breaker game ahead of the cooking class. singles came together around a big round wooden table and sipped four different wines. In front of them was a paper questionnaire which extracted feedback on their experiences and therein tested their palettes. The winners took home bamboo wine racks.
It's a simple proposition: If we put four different wines in front of a group of adults and told them that one wine was priced equal to all three other bottles combined, could anyone of them identify that one specific expensive flavour? And what if one bottle of wine was from France? Could anyone detect that? And what about the different grapes? If we listed all the varietals featured in the tasting in a multiple choice format, could any of the tasters match the grapes to the wine in their glass? And sweetness? How many could tell a dry wine from a sweet wine?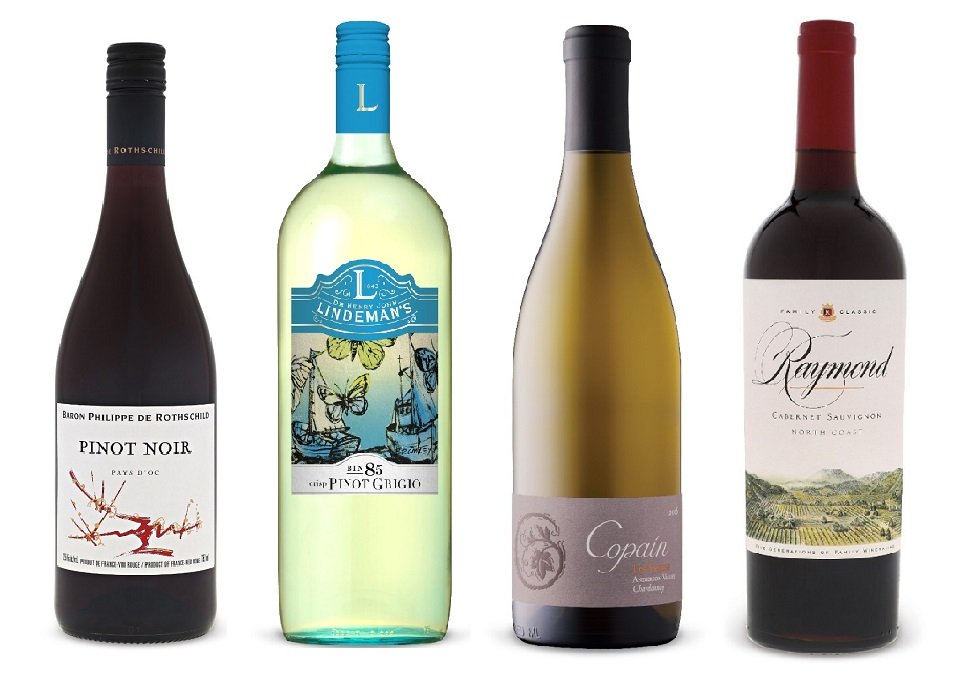 Philippe De Rothschild Pinot Noir Pays d'Oc
This was our Pinot Noir. A regular size 750 mL bottle is $13.45.  The LCBO website shares tasting notes: ruby red colour; ripe red and black cherry aromas; dry, light-medium bodied, ripe cherry flavours with smooth finish.  This was our wine from France. The sugar content is 4 grams per litre.
Lindemans Bin 85 Pinot Grigio
Pinot Grigio, a regular 750 mL bottle in the  LCBO costs $10.95. This bottle had the second most alcohol at 12% Vol. This wine is from Australia, Lindeman's Wines.  The sugar content is 6 grams per litre.
Copain Les Voisins Anderson Valley Chardonnay 2016
This was our expensive Chardonnay at $42.95 for 750 ml bottle. From the LCBO: This is California Chardonnay that puts the emphasis on purity over power and richness. It's floral, fresh and long, with deftly applied oak that works perfectly with the fruit. Citrus shines on the close. A wine for sipping on its own or enjoying with lobster. It will continue to evolve for the next 3-5 years, if you have the patience (it's drinking so well now!). (Vintages panel, July 2018).  The wine was bottled in 2016 but just released in July 2019.  This wine also had the highest alcohol in this wine is the Vol:13.3%. Made In California, USA by the Jackson Family Wines Inc. The wine is dry with sugar content at 3 grams per litre.
Raymond Family Classic Cabernet Sauvignon
Cabernet Sauvignon 750 mL bottle is $14.95 at the LCBO, which writes officially: Deep ruby colour; cassis, blackberry, cedar and soft vanilla aromas; medium body; cassis, vanilla and spice flavours with grippy tannins. This wine is also from California – Raymond Vineyard & Cellar. The sugar content is 7 grams per litre.
Singles Wine Tasting is a blind date with four wines at once.
The attendees swirled the liquid and sipped their cups and made their notes. The tasters were instructed how to look to first look at the wine and check its colour against a white background.  They learned to check its opacity, and viscosity.  There are were a lot of clues about each wine buried in its appearance.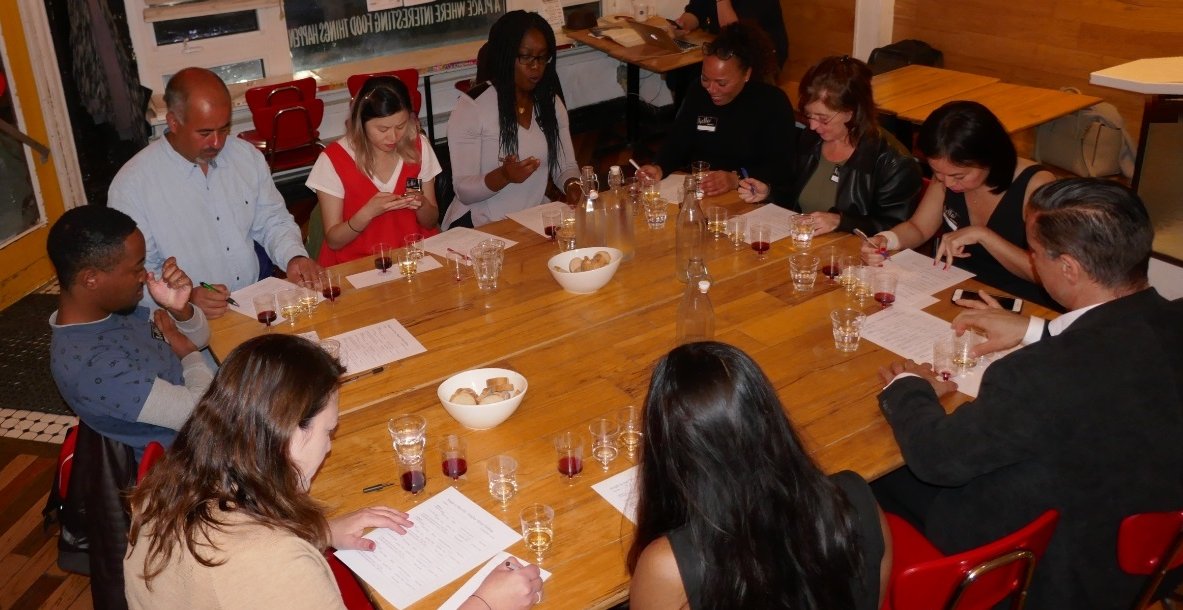 Laura related how when you first start smelling wine, think big to small. Are there fruits? Think of broad categories first, i.e. citrus, conifers or tropical fruits in whites or, when smelling reds try to identify red fruits, blue fruits, or black fruits. Getting too focused on any one particular note can lead to frustration. Broadly, you can divide the nose of a wine into three primary categories:  Primary aromas which are grape-derivative and include fruits, herbs, and floral notes.  Secondary aromas come from winemaking practices. The most common aromas are yeast-derivative and easiest to identify in white wines. Sniffers may detect cheese rind, nut husk (almond, peanut), or stale beer. Tertiary aromas come from aging, usually in bottle, or possibly in oak. These aromas are mostly savory: roasted nuts, baking spices, vanilla, autumn leaves, old tobacco, cured leather, cedar, and even coconut.
Finally they tasted each glass. Taste is how we use our tongues to observe the wine, but also, once you swallow the wine, the aromas may change because you're receiving them retro-nasally and this is sometimes called 'the finish'. Our tongues can detect salty, sour, sweet, or bitter. All wines are going to have some sour, because grape juice is by nature slightly acidic. This varies with climate and grape type of course.  Some varieties are known for their bitterness (our Lindeman's Pinot Grigio), and it manifests as a sort of light, pleasant tonic-water-type flavor. Some white table wines have a small portion of their grape sugars retained, and this adds natural sweetness. You can't ever smell sweetness though, since only your tongue can detect it.
Are you wondering about the scores?  Only two tasters passed the test.  The average score was six points out of sixteen. The wining score was 9/16,  and nobody could identify the expensive wine. All the same, Singles Wine Tasting was a big success. It was good experience, and it's a fun, classy and educational way to meet new people.
In the photo above, the winner holds a Convertible Tilt Wall Wine Rack worth $85.  Her new bamboo convertible wall wine rack can display and store either six wine bottles, or three bottles and four small wine glasses when she converts it.
The Depanneur is a fantastic place to discover unique food experiences. The unique venue celebrates the incredible diversity of culinary talent we have in Toronto by hosting hundreds of pop-up food events like Cooking Classes, Drop-In Dinners, Table Talks, Supper Clubs, Private Events, and Savor which is what they call their Weekend Brunch event.  It's also the birthplace of Newcomer Kitchen, a non-profit social enterprise that helps create social and economic opportunities for Syrian refugee women through food-based projects.
Flirt with Food
On that evening, Laura gave a demonstration on how to make an authentic Chicken Parmesan dish. This is a dish that her Italian mother calls Chicken Parmigiana and consists of breaded chicken breast covered in tomato sauce and mozzarella, Parmesan, or provolone cheese.
Laura is Italian and so the first part of her lesson dealt with making homemade tomato sauce. Oregano is a Mediterranean herb that is used for cooking and medicinal purposes, and the conversation drifted to how Italian moms grow these herbs in their backyards and how oregano can be used to treat infections. This talk happened as Laura prepared the chicken.
Laura butterfly cut the chicken breasts.  She put the palm of her non-cutting hand on the top of the breast, and, using a very sharp knife, slowly cut horizontally through the breast. Then they were marinated and breaded by volunteers and then sauteed by more volunteers. It was a very interactive culinary experience.
Everyone had the opportunity to help Laura with the demonstration. They tasted ingredients raw and cooked to really know the food before, during and after it was prepared.
Everyone ate the meal of course, and there was plenty of left-overs for seconds.
This dish is known colloquially in Canada as Chicken Parm.  In Australia they call it parma, parmi, or parmy. Serve it over pasta or with roasted veggies or with a large salad to keep it on the lighter side. Both the red and the white wines left over from the blind tastings were good accompaniments to the meal.
There were chocolate Brownies and pastries for desert. Many diners stayed behind and mingled as Laura cleaned up in the kitchen afterwards.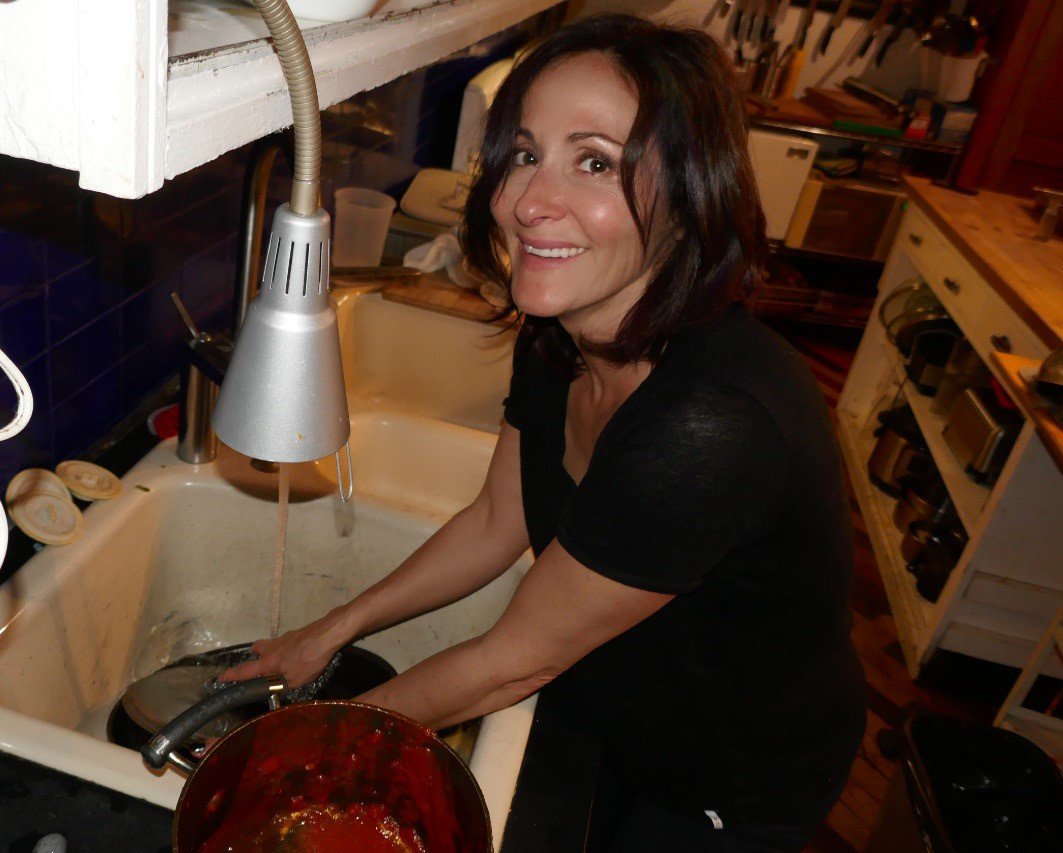 Such was our Oct 15th Singles Wine Tasting – Flirt with Food culinary experience at The Depanneur.