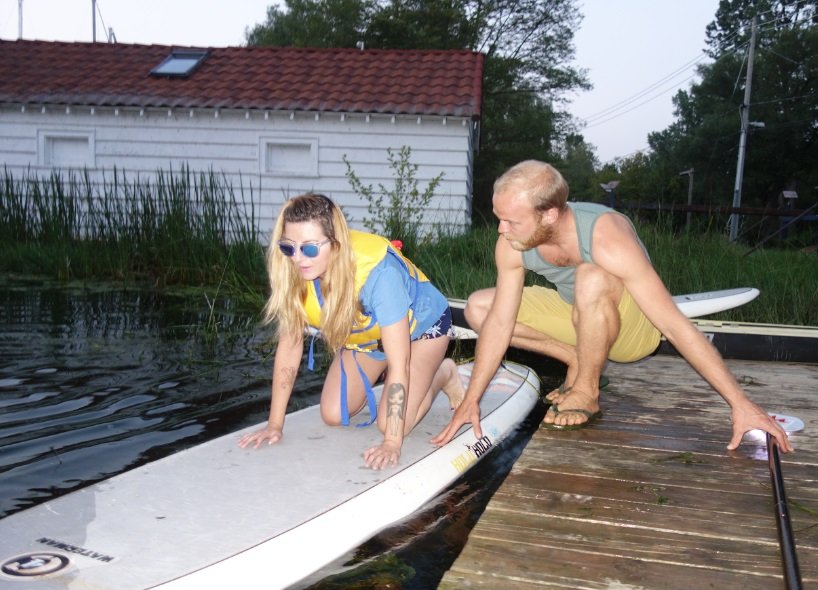 Single in the City went Stand Up Paddleboarding (SUP) in the evening waters surrounding the Toronto Islands with tour guides Niv Froehlich, Jana Ruby and James Statham of Toronto Island SUP. For those who have yet to do it, Stand-up Paddleboarding is great exercise for the mind and body.
This event was SOLD OUT, and the group was full of first-time paddleboarders who were looking to make a connection with other like-minded aquatic adventurers. Going out on group activities like this is one of the best ways to meet other single people and quickly see if you're compatible. Its especially beneficial to have meaningful experiences out in the field as it creates a common ground for discussion and makes you more confident afterwards. And who knows, even if you don't find a date, you may find your next best wing-man or wing-woman.
On a warm August evening, Single in the City participants embarked on a bold excursion to escape the hustle & bustle of the city. Eighteen people signed up to take a short ferry ride to Wards Island and once there to float upright on a rigid foam board.  In the marine culture that's so present in this  southernmost section of Toronto,  our crew did enjoy the calm water and beautiful splendor of summer on 'the island'.  Although Toronto Island SUP offers evening tours every day of the week, we got lucky with the weather because it was a beautiful night that was just perfect for stand-up paddleboarding.

SUP is Super Fun for Singles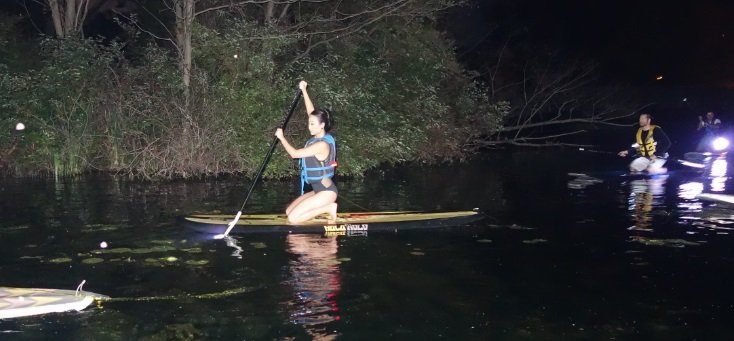 SUP is a great way to explore Lake Ontario and its waterways surrounding the fourteen Toronto Islands (Niv says there's actually more than that).
During the week paddleboarders can explore the lagoons for hours and see lots of wildlife (especially on a morning SUP), passing yachts, and miles of beautiful flat water spanned by old wooden bridges and punctuated with sunken logs and breathtaking views of the 6ix.
Bring a Camera (in a dry bag) with Low Light Settings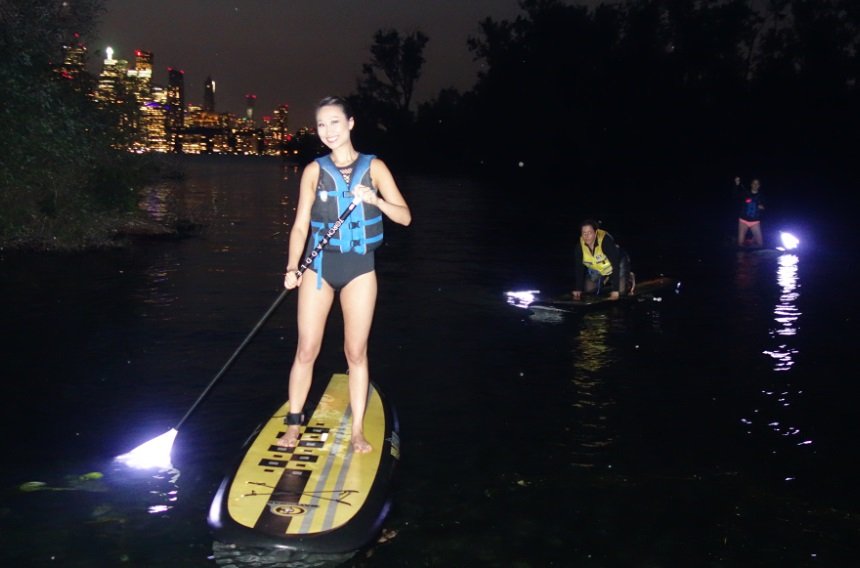 Toronto Island SUP launch site is at the foot of Algonquin Bridge. To get there, once we disembarked from the ferry, we had to walk east down Cibola Ave. Nobody knew just quite where to go, and so that added to the adventure and our sense of discovery in a strange and wonderful way. It certainly added to our confidence after we found the launch point which was about a five minute walk from the ferry dock. Niv, Jana and James were there waiting for us with everything we needed for the night SUP including the latest LED paddles *this author blames the LED paddles for the reason his pictures are so crummy – FYI.
Once we were all at the venue and signed up (we had to sign waivers in case one or all of us drowned), we all got our boards and paddles and we were on the water by 8:15 pm. The sun set that evening at 8:30 pm, and that happened just as we reached the end of the first channel. So we were in the right place at the right time to catch a breathtaking view of the City of Toronto across the harbour at sunset. Nothing is better for turning singles into couples like a shared sunset on the water, am I right?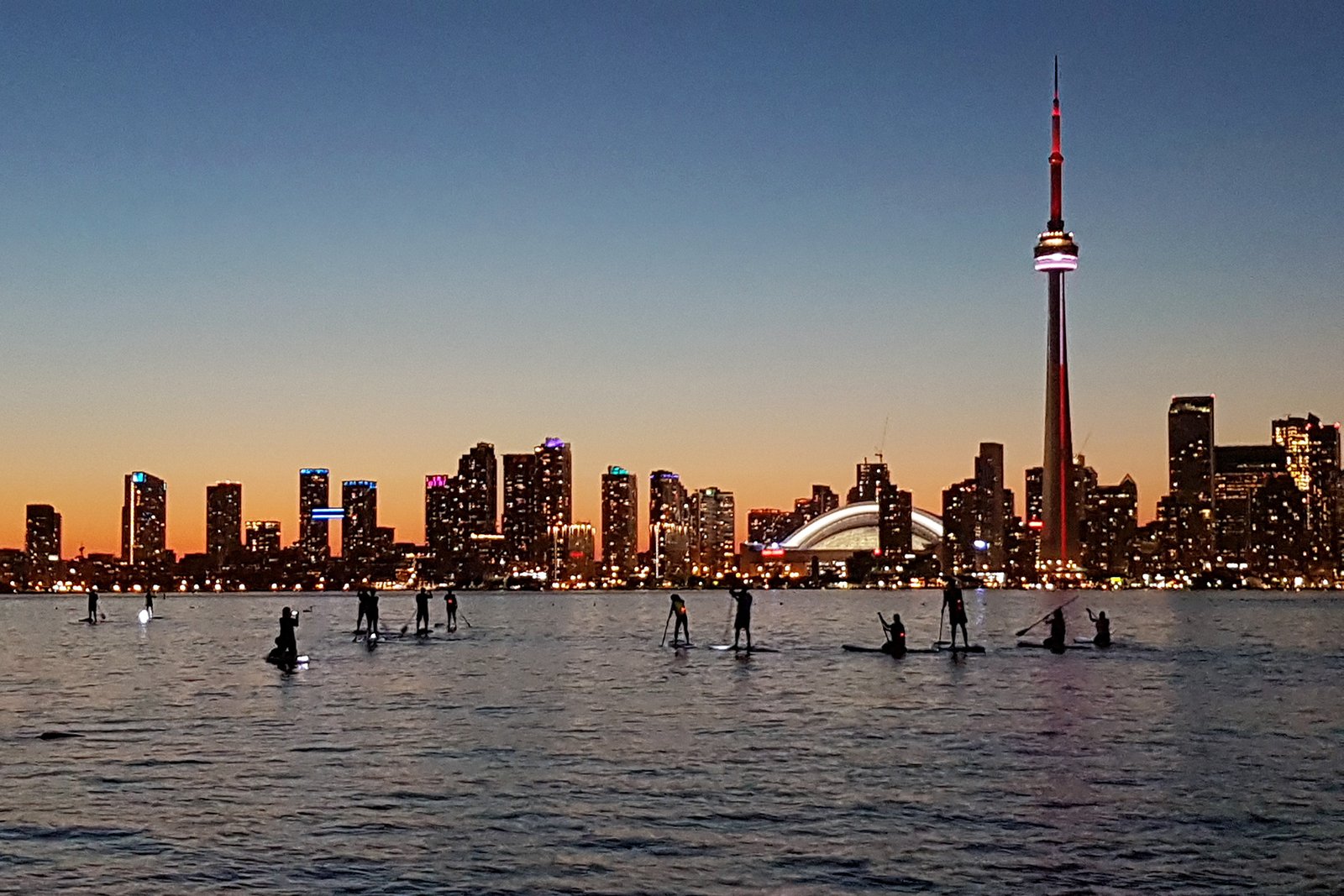 The event lasted for ninety minutes, which is just the right amount of time for people new to paddling. Right at the start James and Niv went over their 'float plan' which included the route, what weather they were expecting, and the time of return, and also noted in the initial briefing were the best places to stop to take breathtaking photos. Below is the SitC crew making our way past the RYC yacht club just before 9 pm.
While it was clear that our guides love to have fun, safety is their main concern.  Three experienced SUP instructors came along with our eighteen Singles – one at the front, one in the middle, and one at the end of our paddleboard 'congo line' through the Island channels. So no matter what skill-level each paddleboarder had (they all improved after 30 minutes anyway), each participant felt both safe and stimulated.
Things I learned on the SitC Toronto Island SUP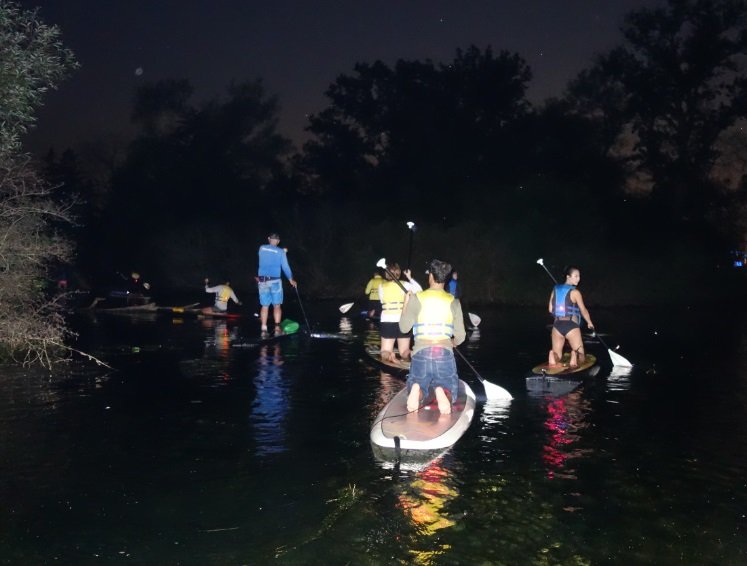 When they say arrive changed and ready to go., they mean it, as there is really no change room facilities where they launch, and most of the nearby cafes and shops are closed by 5 pm.
Even though the forecast called for 22 – 23C with a light wind, I was glad I'd dressed in layers and could remove garments when overheated and replace them later in the evening.  The best combination seemed to be a long sleeve shirt with a thin windbreaker over top.  Yes, there is always a possibility that you might fall in the water, although this uncommon as the boards are really wide and the guides like to keep the trek on calm surfaces. But all the same, it's recommended that you bring a change of clothes for afterwards, just in case you do get soaked. Patrick.
Our Toronto Island Paddleboarding Group was Officially Greeted by Brown Ducks.
Ducks are fun to meet because they fearlessly approach all paddleboarders (looking for food of any kind) and are in some ways actually a minor water hazard.  There's no danger except that'll you'd feel horrible if you ever accidentally hit one with a glow-in-the-dark LED paddle, and you don't' want to betray their trust by splashing them either.  So you have to gently paddle around them, but they don't seem to mind when your board bisects their group formation.
Just what type of ducks are these? At one point our guide had said they were Wood ducks, but this author believes its more likely they are Brown ducks.  Both are hard to identify this time of year as their feathers are changing colour. Ladies, if you want to glimpse a man's sensitive side put a gaggle of ducks in front of him and watch what happens.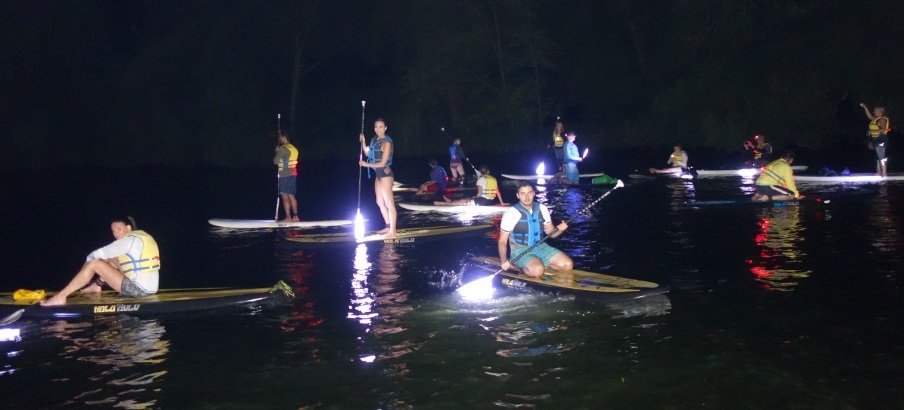 Overall we had a blast paddleboarding and wanted to give a huge thank you to James, Jana and Niv for taking us around the Toronto waterways. If you missed this outdoor Single in the City event, don't worry, we have lots of more great events coming up! We will also be planning another Toronto Stand-up Paddleboarding event in the Spring due to the overwhelming success of this night time adventure.
Save
Save
Save
Save