In a total departure from what is normal, Laura Bilotta, author, radio host and business manager of Single in the City teamed up with Julia Chatterji of The Studio Paint Bar to stage a women-only Paint Night event on Thursday evening, 5th of April, 2018 at The Port House in Mississauga, Ontario.
This event was a resounding success. Twelve ladies shared an interesting experience filled with creative instruction that yielded immense cognitive satisfaction as they communicated their own perceptions of a cute guy in the visual language of acrylic paint. Together our crew shared plenty of laughs and some sophisticated conversation while painting a silver jewellery clad caveman on a 16 x 20-inch canvas.
Although Paint Nights are now a decades old event concept, such a spectacle has never before been attempted by Single in the City, and indeed this evening's activity would not have been possible without help from Julia.
Our gorgeous male model was none other than Martin D, a semi professional wrestler (The Latin Lover) and the author behind Studenomics, a popular student finance blog.
Once Again, Single in the City Engineers a Spectacular Event
There were many moving parts in this complicated evening, and lots of different people came together to make it happen. There were preparations done earlier in the day, and earlier in the month as our crew worked to get everything ready for this unique exhibition.
Firstly, the gender specific event concept corresponds with something else Laura has been working on for a few weeks, something she calls The Wing Woman Collective. This is a new archetypal behaviour model that is defined in part by a central Wing Woman Code of Honour, but more on that later.
Our Beautiful Model Got Extra Bling from a Downtown Toronto Jewellery Store
It wasn't enough to have an attractive man as the subject for this artistic exercise; Martin's muscular chest needed more adornment. A chunky silver necklace, two solid silver bracelets and a thick solid silver skull ring were donated by Toronto jewellery store On the Other Hand for this occasion.
The bright silver ornaments were specially selected to contrast Martin's well tanned skin and animal print apparel.
The leopard print loin cloth was fashioned on-site by Toronto make-up artist Jennifer Turner of Modern Makeup. Jennifer styled Martin as a 'couture caveman' in a Fred Flintstone style frock which was initially conceived with a shoulder strap.
When Laura appeared in the restaurant at 6:30 pm, she took one look at Martin's costume and immediately nixed the shoulder strap. 'Why would you cover his best feature?' she remarked.
Jennifer applied make-up to the entire top half of Martin's body. She used her brushes to tone his face and accentuate his muscles. While many observers didn't think Martin's body could be improved, Jenn really proved her skills as the finished product, a perfectly coiffed caveman, was even more compelling.
While the final touches were being applied to the subject, our paint instructor Julia Chatterji was prepping her impromptu paint studio on the dance floor of The Port House restaurant.
For the record, next month, The Studio Paint Bar is moving into the empty unit next door to this restaurant.
Twelve paper plates became paint palettes stocked with black, white and three primary colours plus a small dollop of gold for decoration. Each painter got three or more sizes of brush and plastic water cups.  Each painter's station also had its own easel, and two sheets of paper towel and a moist towelette to clean fingers and hands afterwards.
A big shout out to Brian from The Port House restaurant for ALL his help, and especially for sourcing the spear (broom handle) that Martin could hold in his hand when posing. This manager's efforts did not go unnoticed, and his dedication to our cause really improved the entire affair.
At seven pm the paint night commenced with opening remarks from Laura who introduced Julia and Martin to twelve female painters. The assembly of eager artists wet their brushes with anticipation as they surveyed the subject waiting to be sketched and coloured on their canvas.
Paint Night is Yoga for your Whole Brain
Paint instructor Julia Chatterji of The Studio Paint Bar had her own motivational messages for the group.  In addition to her marvelous instruction on the ABC's of making art, she also provoked questions on perspective and gave the girls a reason to talk to each other as they shared their perception of the subject.
The simple act of painting a pretty picture stimulates the primary motor cortex of the brain, and this makes participants more receptive to social programming and streamlines the complicated act of making new friends. Painting breaks down barriers, and the people who came out that evening soon found themselves relaxed and having a good time in what would become a mildly transformative experience.
Laura Bilotta Used the All-Female Audience to Cement her Concept of a Wing Woman Collective
In the shadow of the #MeToo movement, and in connection with our society's reaction to powerful men preying on younger women, Laura unveiled a code of conduct for Wing Women.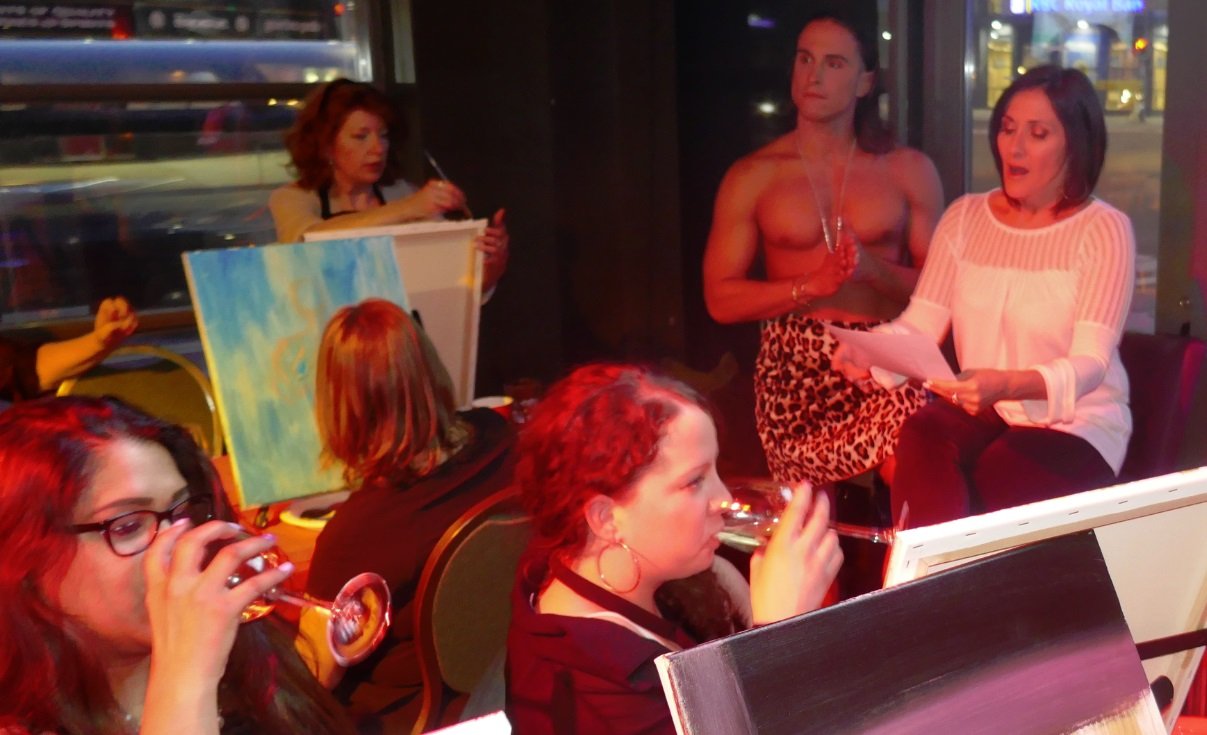 Let's start with a definition. A Wing Woman is a charismatic lady who helps both male and female friends meet new people romantically while not actively seeking companionship herself.
As the ladies painted their pictures, and while Martin stood silently listening, Laura listed the Top 10 Rules in the Wing Woman Code of Conduct. This will certainly be its own blog post at some future date, but until then you can see the ten commandments listed in order in the photo opposite (which expands when clicked).
After a relaxing ten-minute break in which some delicious appetizers were served, the ladies returned to their brushes to put the finishing touches on their masterpieces.
Then, just as the artists were getting antsy and waving their canvases around to dry the paint enough for travel, Keith Travers appeared in the club with an armful of empty picture frames.
The top five paintings, it was announced, would get complimentary picture frames courtesy of Eastview Homes, a Mississauga building contractor. Being an artist himself, Keith joined Laura and Julia as the third Judge and tie-breaker when the trio traipsed around the studio selecting the best images to win prizes.
Everyone came away with something. All the participants who came out that night got SWAG bags stuffed with cosmetic samples, skin moisturizing products and gift certificates from Mississauga hair salons and beauty bars. Plus, they all got to keep their paintings of course, and the five best works-of-art got frames.
More importantly, this unique Paint Night experience marks another milestone in the continued evolution of Single in the City's premium event management service; here again we're pioneering new formats, pushing the envelope of creativity while maintaining a safe environment for clients making human connections.