Working With Your Spouse: Partners in Life AND Business
Working with your spouse seems like a pretty romantic idea right? You get to be partners at work and at home, spending quality time together while building your futures. But what we don't realize is how much energy and effort is put into making a business partnership work on a daily basis. This week on the Dating & Relationship Show I sat down with husband and wife duo, Claudia Machiella and Domenic Gagliardi who share not one, but TWO businesses together. They spend long hours as chiropractors at their busy clinic, CHR or The Centre for Health & Rehabilitation, located in Woodbridge, Ontario.
Now, the amazing chemistry that Claudia and Domenic share was easily identifiable upon arrival, but they insist that it takes much more than affectionate feelings to keep them both sane. In fact, Claudia has quite a few rules that she implements when faced with the pressures of balancing work and home. These rules made me laugh a bit at first, it seemed like she had a rule for everything! But they are actually very practical and have obviously contributed to the couples' joint success. Based off of my conversation with these two, I've compiled a list of 'rules' that will help you manage your personal and professional life when working with your spouse.
Before You Commit to Working With Your Spouse … Compare Your Goals
Before you jump into business with anyone, even if you're married to the person, make sure you have a similar vision. Claudia and Domenic were already in the same business and a part of the same profession, so in their case it was a question of 'who could be a better partner than my spouse?' They were fortunate in this case. Starting a business from the ground upwards can make it difficult for you and your partner to come to an agreement, especially when you both have really great ideas. You don't want the fallout of a business to potentially lead to a relationship fallout, so make sure that you both laid everything out on the table and left no stone unturned (finances included) when dealing with matters of profession.
Be Focused
When it comes to Claudia and Dom, two is their magic number: Two lovebirds, two successful practices and two beautiful children. Of course, I wanted to know how they manage to keep things running so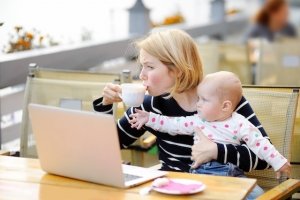 smoothly with such a full plate. Well Claudia says that being focused and schedule oriented is very important. Both children are involved in competitive sports and so there are two calendars set up in the home, one for the kids and one for the parents. Not only does this create a sense of independence for the children, but it also helps promote organization within the household. Each member knows what he or she needs to do and when it needs to be done. The dynamic duo also splits up household responsibilities, with Claudia taking care of the meal prep and Domenic on cleaning duties. Having a routine makes working with your spouse so much more enjoyable, because you've eliminated some of the stress by maintaining consistency. 
The 24-Hour Rule
I decided to give the couple a scenario: What happens when you've had a major disagreement with your spouse and can barely stand to be in the same room as one another, but still have to work together the next day? How do you keep a professional disposition? Claudia replied that they use the '24-hour rule', which is a sports rule that Domenic taught her (she also mentions that Domenic is very much a sports fanatic – and he doesn't dispute). The rule is basically that you do not discuss or revisit a situation until 24 hours after it happens. This gives each person enough time to come back with a clear mind and an opportunity to think things over, or in sports terminology, bring everything back to home plate. Of course, they both have a business to run so the couple typically works through their issues very early in the morning, before the kids are even awake. 'I am not wrong that often but I'm good at admitting it when I am', says Claudia, 'The key components to resolving an argument are communication, honesty and suppressing the urge to instigate your partner'.
Keep It Exciting
Just because your focused on growing a business together does not mean that your life has to be dull and repetitive. Claudia and Domenic love to do fun things together, in fact, they decided that their next activity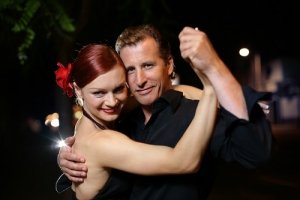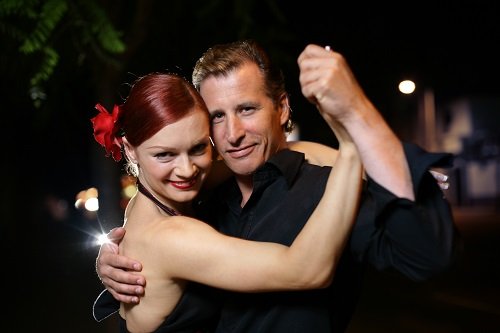 is going to be Latin-dancing lessons. After all, who doesn't love awesome music and good vibes? You always need time apart, to hang out with your friends or enjoy a good book, but setting time aside to do things together is equally as important. Make plans for you and your partner to have date night at least twice a month. This will help feed your emotional and physical connection while keeping your relationship healthy.
I asked Claudia and Domenic if working together has brought them closer as a couple, to which they answered 'YES. 1000%.' 'Building a business together has contributed to us building our lives. We've been able to go through the good times and the bad times together, and come out stronger than ever in all aspects.'
If you are considering working with your spouse in the near future than make sure you read through these tips beforehand, so that you are fully prepared for any obstacles that might come up. Chances are, as long as you are compatible and have a clear understanding of what each person wants and needs from the partnership, than your business endeavors will be a success! If you have more relationship questions or need more advice, book a dating coach session with me. I'd love to hear from you!
To listen to this episode and past episodes check out The Dating and Relationship Show.
Ciao for now,
Laura