A few weeks ago I had the pleasure of participating in a photo shoot for Hanya's Hope. Hanya's Hope is a non-profit founded by former model, Real Estate Developer and philanthropist Hanya Kizemchuk; the organization's primary goal is to support children and end the abuse and trafficking of children. Hanya's Hope works as a world-wide network of resources and charities related to helping abused children. Child sex trafficking is the third largest underground 'business' in North America, trailing closely behind drug and arms dealing. Often children are exploited and sold by their own family members and it's estimated that 30 million children are involved.
The idea for Hanya's Hope stemmed from an encounter with Aerosmith front man Steven Tyler at an event for his organization for abused girls; Janie's Fund. Tyler's foundation is named after Aerosmith hit "Janie's Got A Gun", which was actually released 28 years ago today. The song tells the story of a young girl shooting her abusive father. It's amazing that a song can inspire a whole movement and give a voice to abused children.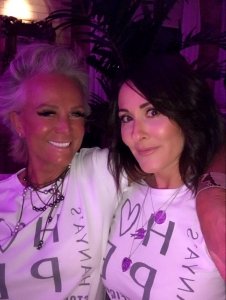 Hanya's Hope tee-shirts are now available and I'm very thankful I was able to participate in the launch photo shoot we did with Dolce Magazine for their Fall Issue, which is now available on the stands. The proceeds raised by the shirt sales go to charities that work directly with abused children. I love my shirt; it's very cute and a great conversation starter. If you're in the market for a gift, I recommend getting a Hanya's Hope shirt.
We had an amazing group out to support Hanya's Hope at the photo shoot including Paul Mason (who you may recognize as Fashion Santa), Real House of Toronto Ann Kaplan Mulholland, Carrie Rowan, and Hanya's Hope Board member Sharon Clarke. Everyone involved is very passionate about the project and brought a wonderful energy to the shoot. Hanya was giving everyone lots of pointers throughout the day; she started her career as a model, working with amazing publications like Chatelaine and Flare.
I'm so happy that I met Hanya this year at a fundraiser held by my "Dating and Relationship Show" producer and co-host Sandra Carusi, Hanya has opened my eyes to a huge problem in our society. I can't wait to continue to work with Hanya's Hope in the future and see it evolve into a force to be reckoned with.
Check out my blog post where I chat with Hanya about long distance love.
Please help Hanya's Hope support abused children and purchase a tee-shirt here. All of the proceeds go to organizations that are making a huge difference in the lives of abused children. Together we can end the cycle of abuse.