On the evening of Thursday the 7th February 2017, a roster of remarkable people, media makers and many small to medium-sized business owners joined the close friends and family of Laura Bilotta, at Acqua Dolce fine dining restaurant on the Exhibition Grounds in Toronto to make history at the launch of Laura's new book, Single in the City: From Hookups and Heartbreaks to Love & Lifemates, Tales and Tips to Attract Your Perfect Match.
This fantastic 'crowning' achievement was celebrated by an attractive array of adoring guests.  At the Acqua Dolce restaurant, all memories made that night were bathed in joyous splendor.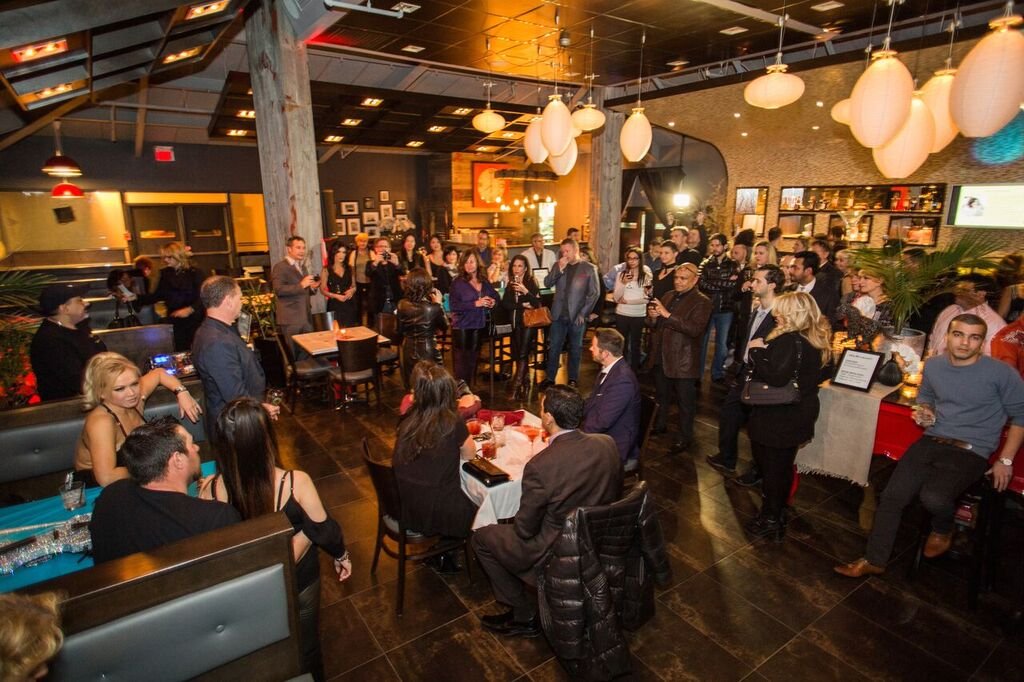 This chronicle of that amazing evening starts at 6pm when a diverse support network of personal and professional helpers began to arrive at the venue.  Each of these people is a jigsaw puzzle-piece in the masterwork that was assembled and ready for guests at seven pm.  The whole affair came together without a hitch and was brilliant.
Acqua Dolce restaurant is a fine dining venue right on the Exhibition Grounds in Toronto. The restaurant was the brainchild of Elvira Muffolini who was among the visionaries that petitioned Toronto City Council to make the business a reality. Acqua Dolce is already garnering a reputation for fine dining. The hideaway is probably helped by the fact that it's kind of out-of-the-way. It takes a bit of a journey to get there, and by that I mean its not located on a major thoroughfare and most cabbies and Uber drivers don't know the route, yet.
Erika , the social media savant at Single in the City, made a really cool Microsoft Power Point presentation to play on the two big screen TVs above the bar. She did it in twelve minutes flat. That's the kind of talent Laura has in her life; a blood relation, Erika plays a strong role behind the scenes. Erika posts many of these blog posts as 'admin'.
Next to materialize was Rob from Xitmint Productions who was very professional, and very accommodating.  The laptop says DJ Tairo which is confusing as the service website and business is DJ Xitmint (excitement).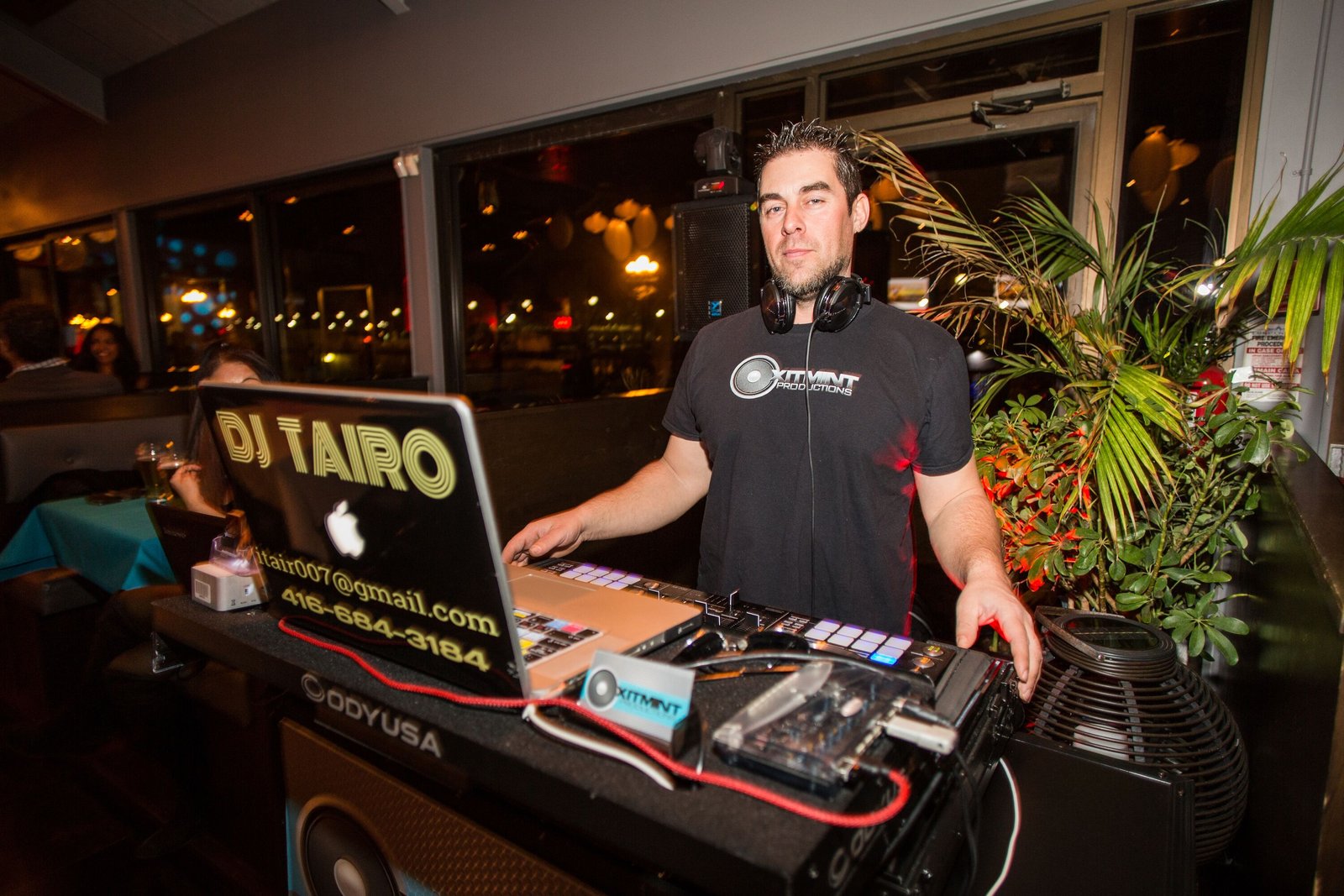 Right after Rob the awesome DJ arrived, and got set up, his team met an extremely talented female performer who asked and I assume was allowed to share their sound system without any fuss. I'm not sure if or how they'd worked it out, but Rob the DJ soon became the musical maestro for the legendary Elena, a live electric musician who is an A-List performer in every respect. The girl is freaking amazing.
There were many transcending moments on that excellent evening, and Elena playing her electric violin (while wearing dark sunglasses) was certainly among the highlights for myself and many guests.  She would play along with classic rock songs, accentuating the groovy rifts with sections played live on her fiddle and it was impossible not to be moved – from the moment she started to play, the party really started jumping.

But let's remember, all these moving parts came together to herald the debut of a sophisticated piece of self help literature for Singles, now on the shelves of Chapters Indigo in 2017.
So many important CEOs and salon owners were there, eager to be present at the historic occasion and taste and share the excitement, to see and be seen, and get a signed copy of the book.
Ultimately the success of the event is an honest reflection of how many friends Laura has, for real.  The party was graced with real literary celebrities like Valerie Gibson, relationship expert and author of Cougar: A Guide for Older Women Dating Younger and Men and The Later Dater: A Guide For The Newly Single Woman Over 50.  Valerie's work and her friendship is very inspirational for Laura – she has and continues to learn a lot from this smart, sophisticated woman.
Laura got advice and positive feedback on her book from other notable journalists and newspaper columnists, including some men.
Here's Howard Berger from a Maple Leafs hockey blog, Between the Posts ca and Joel Levy interior photographer Toronto who took almost all of the photos you see throughout this important piece of event journalism.
Harvey and Joel were not the only photographers at the celebration. Samson and his lovely finance (… so tempted to call her Delilah) were also there operating a smart photo booth that sent portraits to each subject's email address (as per their business cards). Mango Tree Studios event photo booth Toronto is a high quality memory making service for just about any occasion, and these two charming practitioners were an important addition the manage-of-media at the scene.
Everyone was there to honour, congratulate and celebrate the achievements of Laura Bilotta, the author.
For so many wing-women out there, the party was the ultimate girls' nights out!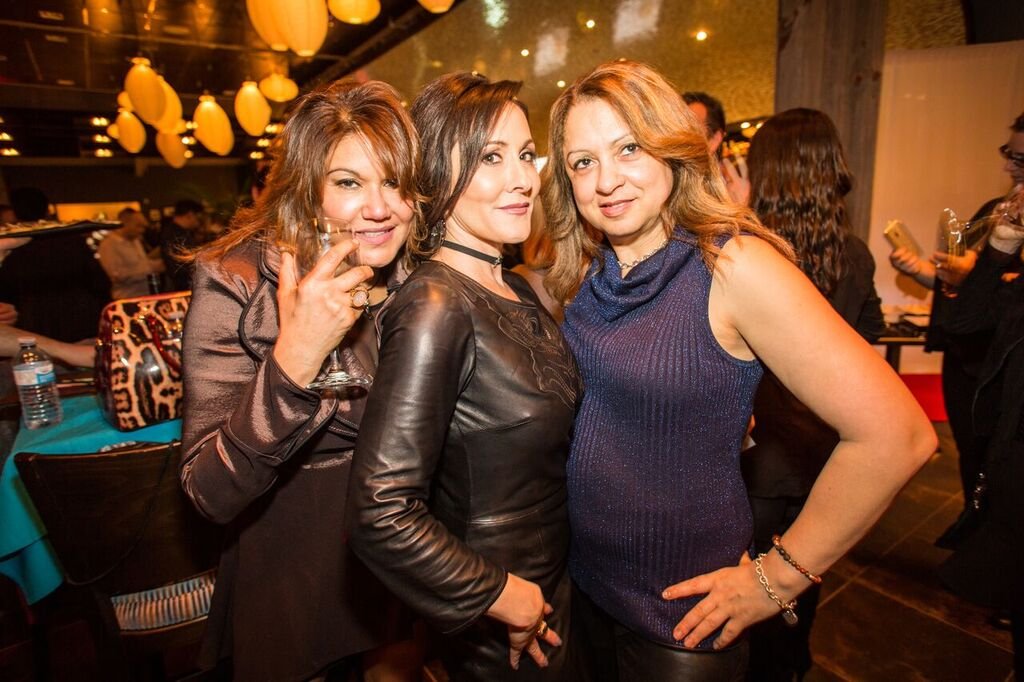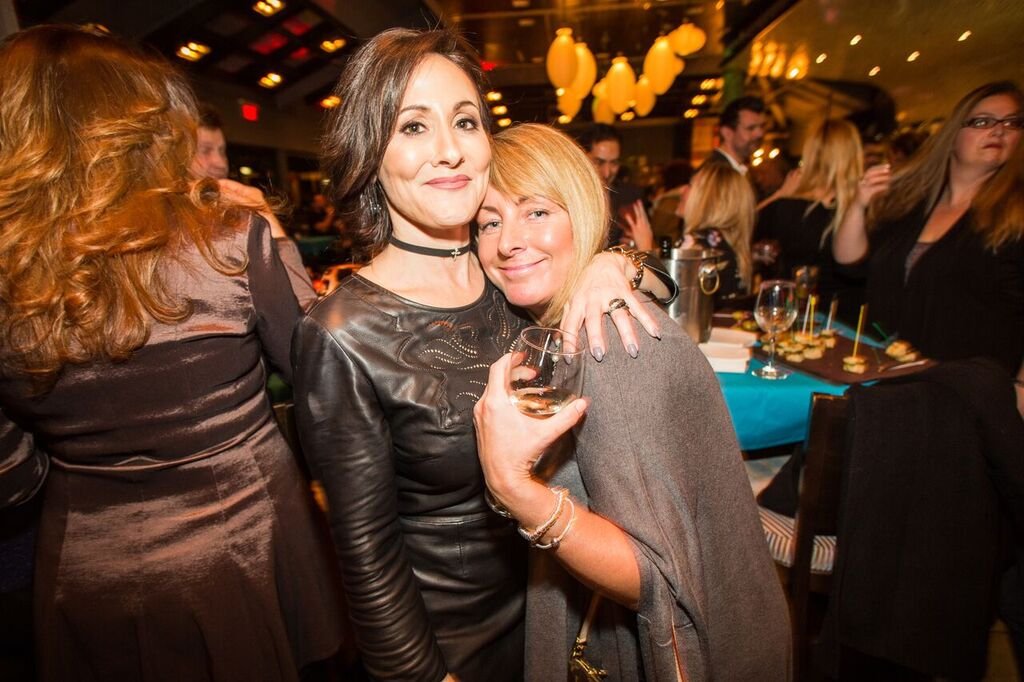 Here come the
foxy ladies . . .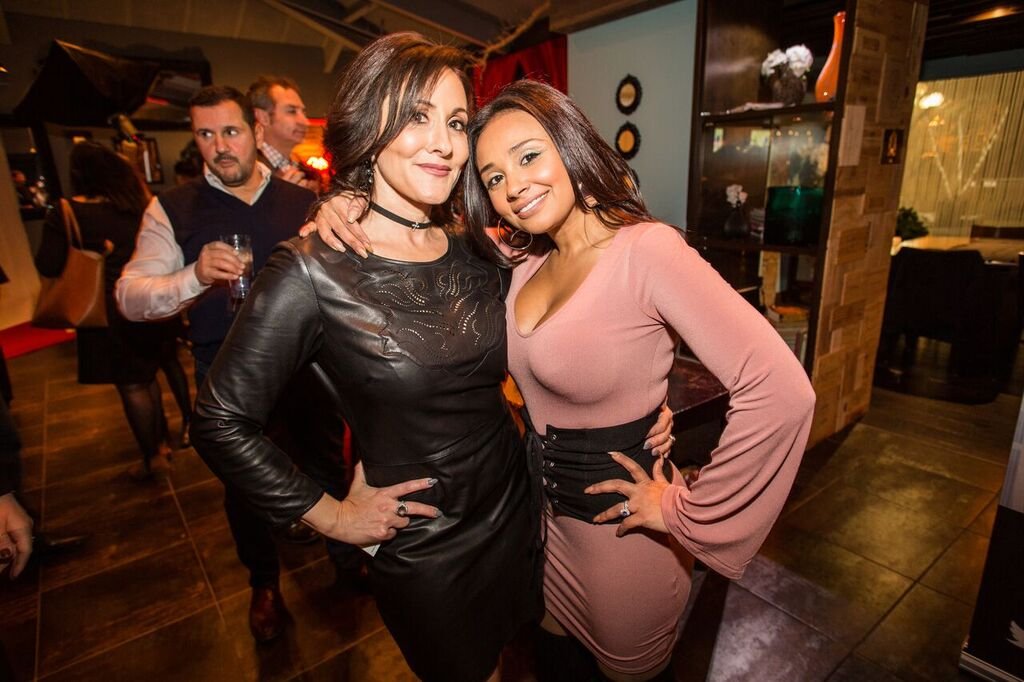 But let's look at the wonderful people in her life , her family and friends and countless readers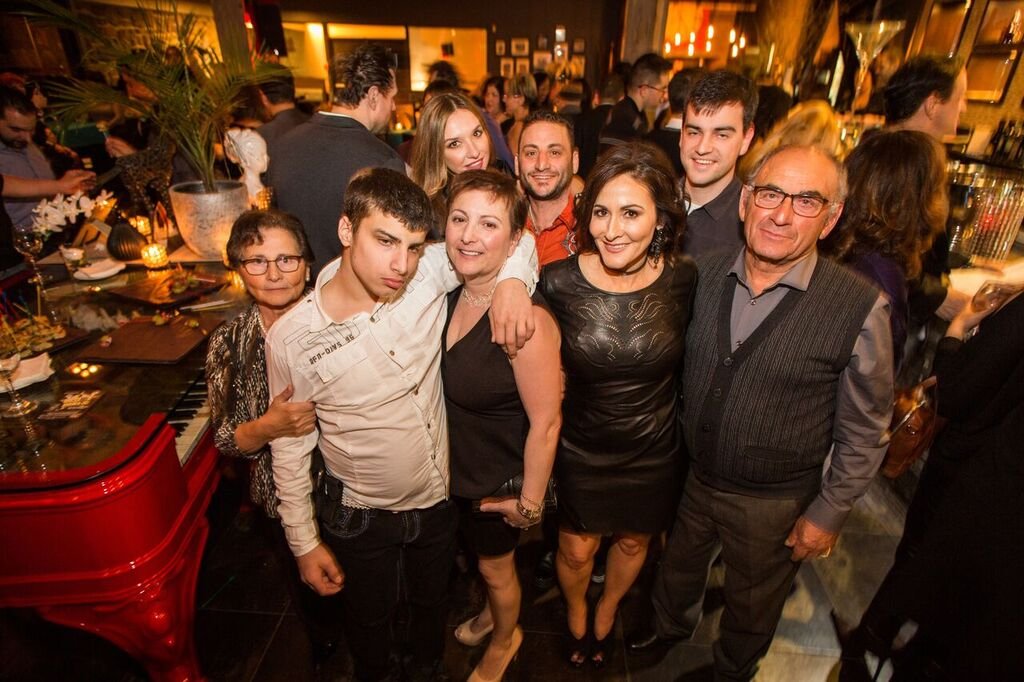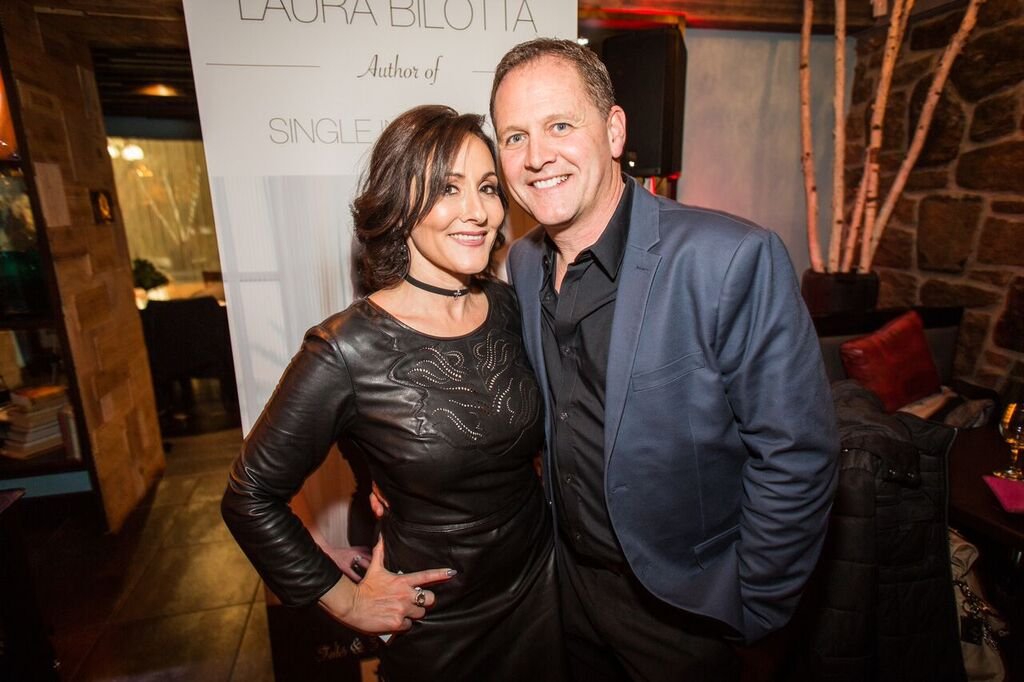 and supporters of all descriptions. Below is a rare glimpse of Laura's family, and the most important man in her life, Dean. What a hunk.
The food was another facet of the spectacle and added to the majesty of the event.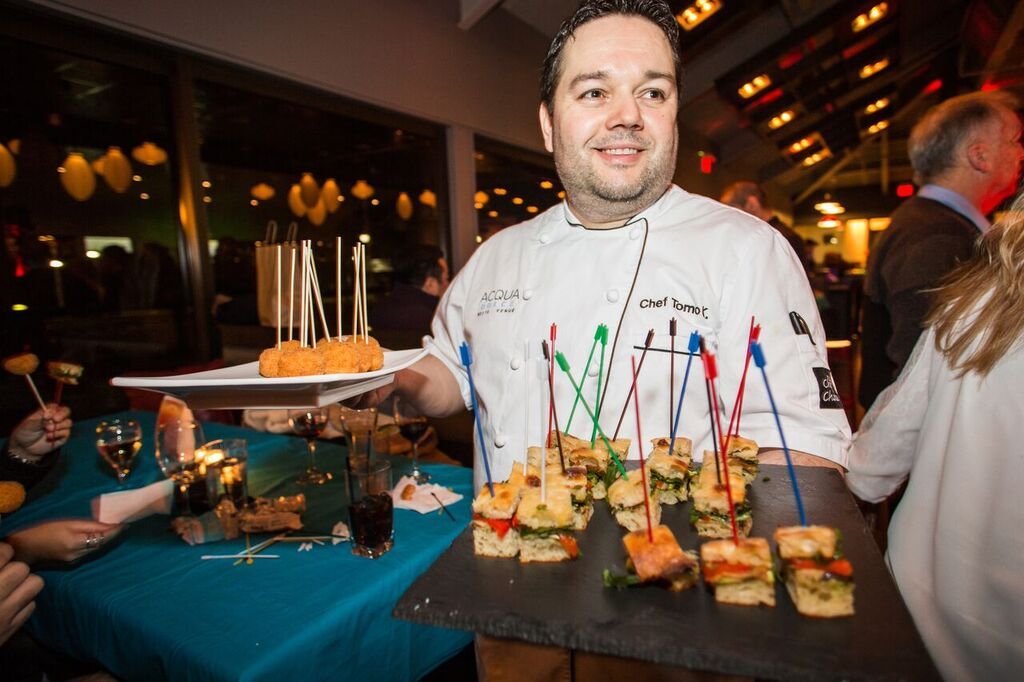 Thank you Chef Tomo K
Then the speeches started. The publisher certainly had a lot of nice things to say…
Here's Patrick on the mic, and Rob Campbell, Toronto SEO expert SMOJoe beside the lovely and remarkable Lola who does is also a journalist of some renown.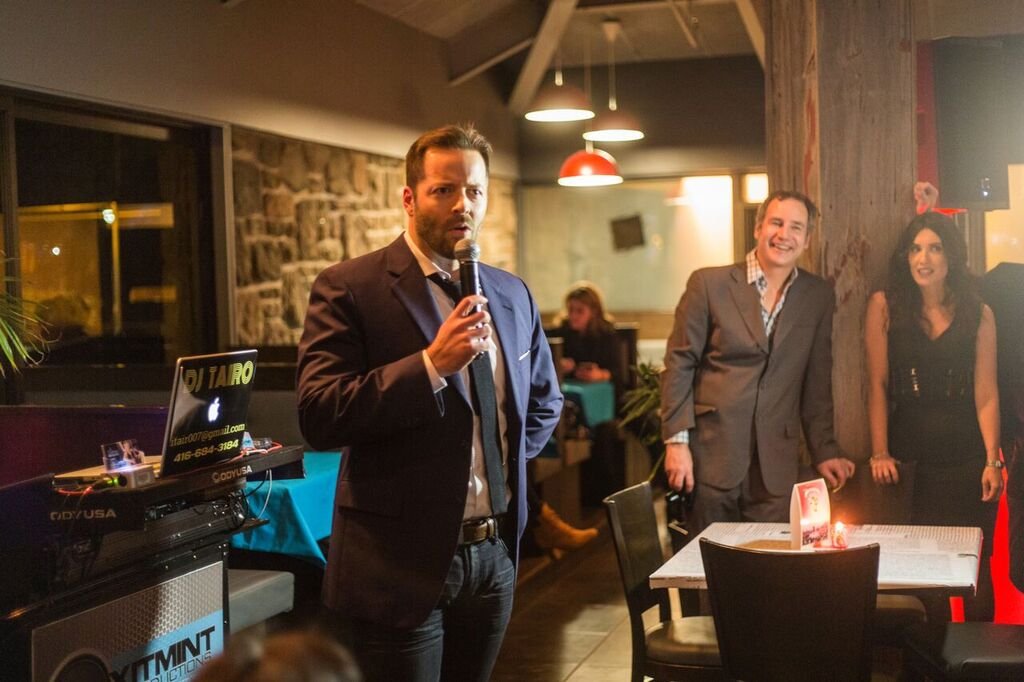 Then after more dancing and libations Laura took her seat by the door and started signing books and next thing you know everyone was lining up to get an autographed copy for themselves.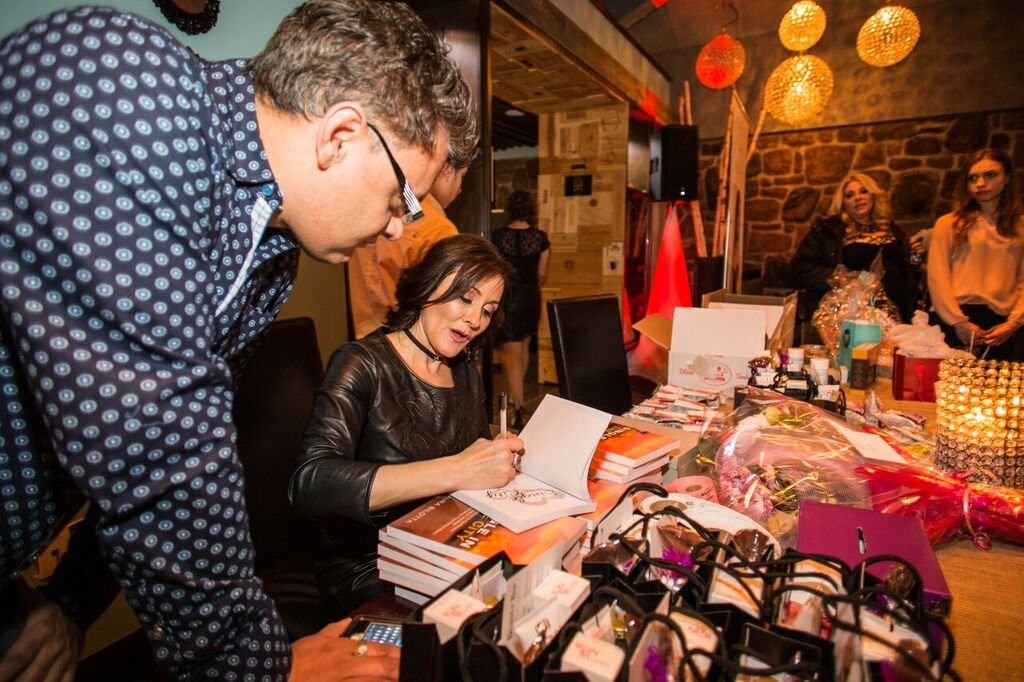 Practically everyone at the party bought a book, and Laura signed them all and for the most part, if and when she knew the person, she personalized the message all while people waited in a long line that snaked through the restaurant.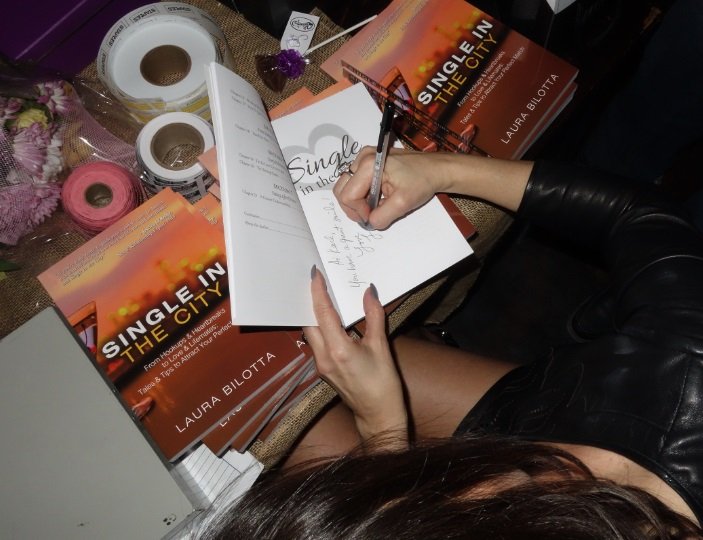 The gift bags were exceptional to say the least – these little black paper bags were absolutely STUFFED full of edibles and beauty amplifiers for women and men. The bags were the proverbial 'cherry – on – top' of an overall amazing night.
THE GIFT BAGS were primarily sponsored by, and contained amazing products from Donato Salon & Spa. Inside each bag was a $100 FREE SERVICE gift certificate to The Beauty Bar Medical Clinic, 30 minute facials from the Dspa, Cookies & muffins from Lorelyn's Gourmet Desserts, First Aid Beauty products, lip colour from DVanity Cosmetics, a swizzle stick bearing gourmet chocolate mustache from Sweets Canada, and a little toy for the ladies from Pinkcherry and pure Olive Oil from Italy via importer Sarafino.  A grand prize was donated by Glen Kho from Feri Lines and Irina from IlashBeauty.
The softcover book sold like hotcakes! This author don't know anyone there who didn't buy, or win, or somehow leave with a copy.
Below is … and Karim Mirshahi from Toronto Waterfront Magazine who must have felt right at home at Acqua Dolce restaurant, as its certainly on the waterfront.  The patio overlooks the harbour on the other side of Lakeshore blvd with a view toward the Cineplex at Ontario Place.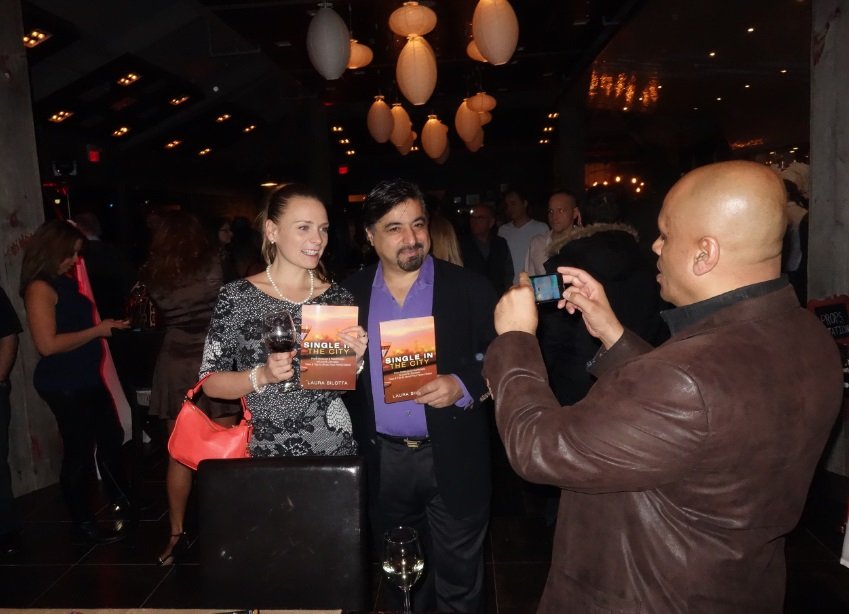 The guests were blown away – at all the parties they've been to recently, they had probably never seen so many attractions rolled up into one giant super attraction.
Save
Save
Save